Cleanzine: your weekly cleaning and hygiene industry newsletter 2nd April 2020 Issue no. 912
Your industry news - first Number 1 for Recruitment

We strongly recommend viewing Cleanzine full size in your web browser. Click our masthead above to visit our website version.
---
What a well-thought-out 'away from home' washroom should look like!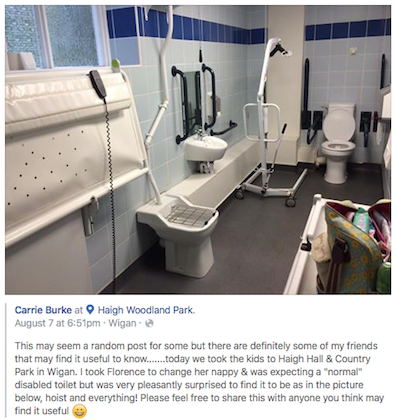 Ed: We just had to feature this post, which was shared by a family member on Facebook...
Some 15 years ago I helped organise the Annual Conference for the Association of Building Cleaning Direct Service Providers and the venue was Haigh Hall - the home of this thoughtfully fitted-out washroom.
I think that at the time, I was also on the Council of the British Toilet Association, (alongside, amongst others, one of the ABCD National Executive Committee) through which we were campaigning for better public toilet provision, for all.
Even back then, our local authorities were facing huge budget cuts and one of the quickest and seemingly simplest ways for councils to shave off some of their annual costs was to close down the public loos that so many of us had come to rely on.
The ABCD member to whom I just referred, had 'gone the other way' by installing pop-up urinals, that were hidden away during the day, but which appeared from underground at night-time, to service the needs of those leaving pubs, clubs and restaurants who might otherwise have urinated in the streets.
The idea was, that perhaps by providing the service (and swallowing the costs involved) the local authority could be seen to be providing be a cleaner, more hygienic and more pleasant environment which would as a result attract more people (including tourists) into the local area who would spend their money with local businesses which would consequently pay more taxes, rather than - if there weren't any stocked, accessible toilets - have to cover the costs of the subsequent clean-up operation.
So many local authorities throughout the UK took what many think is the easy way out by shutting down their public loos and then dealing with the consequences. A disgruntled general public's needs were ignored and this has had a devastating impact on the daily lives of many, who cannot be too far away from the loo.
My local public washrooms, in Ewell village, have just been sold off as 1-bed houses with open plan kitchen/living area for slightly under £300K each - they had previously each held just two cubicles and were tiny - as well as being just a few feet from the busy road, with the bus stop directly outside! The buildings and land on which they stood were sold by the local authority to the developer for, I believe, £88K just a few years ago. I don't know how much the conversion cost but I wonder whether, with a little more insight, things could have been done differently.
Either way, the washrooms should have been kept open, as should our washrooms everywhere.
My local authority is currently rebranding a square in the town centre. It hasn't been there for that many years and was formed by taking away a heavily used car park and - you've guessed it - public washrooms. It's surrounded by high rise buildings and doesn't get much sun so will always be a little bleak, but they're planning to revamp it, to make it more attractive. There's been a public outcry at the threatened removal of the one, long-established tree, to make way for advertising hoardings that will publicise the name change from Derby Square (as Epsom is home to the world-famous Derby) to Epsom Square. Beggars belief, doesn't it?
Am I the only one wondering where the powers that be have their brains, and wishing that someone, somewhere would sort out the way local authorities' budgets are handled? Because with some council departments (and I'm talking generally here, rather than pointing the finger at Epsom) desperately trying to find ways to spend their money and simply frittering it away on unnecessary things (so they don't have it deducted from their budget the following year) - for example, supplying each team member with an i-pad, whether they need it for work or not - and others being forced to cut vital services in an attempt to make ends meet, something has gone very badly wrong, somewhere along the line...
1st September 2016
---