Cleanzine: your weekly cleaning and hygiene industry newsletter 13th June 2019 Issue no. 874
Your industry news - first Number 1 for Recruitment

We strongly recommend viewing Cleanzine full size in your web browser. Click our masthead above to visit our website version.
---
Surface cleaning the 'green' way:lLiability and risk management - does it make cents?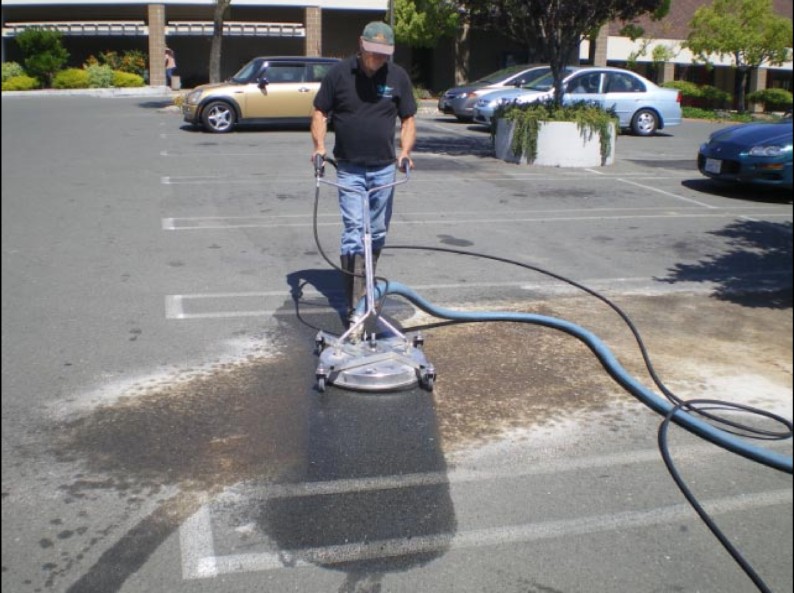 Although this article was written by Cathleen Parker, President of Parker West International, for the US market, it has plenty of useful information for those involved in exterior cleaning in most of the 148 countries in which Cleanzine is read. Enjoy!
For several years now, there has been a 'buzz' about the benefits of green indoor cleaning products and methods. However, there has been very minimal attention focused on how we can implement green cleaning techniques when washing outdoor surfaces.
How and why outdoor surfaces are cleaned
- Most commercial and industrial businesses use power washers and floor scrubbers, as an efficient, fast and inexpensive method to deep clean indoor and outdoor hard surfaces, such as car parks and structures, delivery areas, petrol stations, loading docks, pavements, dumpster/rubbish disposal areas and for removing graffiti, as well as for emergency spill cleanup.
- Facility maintenance guidelines recommend frequent wash down of concrete and asphalt surfaces for health, safety and cosmetic purposes, reducing risk and liability.
- Regular washing preserves and protects hard surfaces from degrading quickly, caused by ongoing build up of corrosive salts and automotive fluids, which can lead to expensive repairs.
- Pervious pavements, also known as porous asphalt, need routine deep cleaning, approximately two to four times per year, depending on the frequency of use, so that the pores remain open to maintain infiltration efficiency rates.
- Painting contractors, concrete decorating companies, seal coating and asphalt paving contractors use pressure washers to prepare and clean surfaces prior to applying a new coating, so that the new finish will adhere better and last longer.
- Fleet washing
The problem
Most people utilising power washers and floor scrubbers discharge their wash water the nearest hole, a floor drain or the storm drain.
Did you know that most floor drains inside parking structures and storm drains located outside of buildings lead directly to the nearest river or stream and ultimately flows into our bays and estuaries that are often some of the most sensitive ecological areas along the coast?
One quart of used motor oil contaminates 250,000 gallons of fresh water!
Wastewater generated by power washing and floor scrubbing may contain significant quantities of oil and grease, suspended solids, toxic metals, organics, as well as harsh cleaning detergents. These pollutants harm living organisms, including fish and people who ingest them. Oil and grease contain hydrocarbon compounds and solvents, some of which can injure or kill aquatic life even at low concentrations. Oil and grease coat fish gills and prevents oxygen from entering water, starving fish and aquatic life.
Also, used motor oil, transmission and hydraulic fluids contain carcinogens, toxic metals, such as lead, cadmium, zinc and mercury. These elements are known causes of cancer and reproductive toxicity.
Some detergents contain arsenic. Many detergents also contain nutrients such as phosphorous and nitrogen. High nutrient levels in streams and lakes can harm water quality by stimulating excess weed and algae growth, causing unpleasant odours and sights, and depleting oxygen levels necessary to support fish life.
It is very important that building owners, property and facilities managers are diligent in knowing how to properly manage and dispose of the wastewater generated by power washers and floor scrubbing equipment to reduce their risk and liability associated with improper disposal.
Why should facilities managers and property owners be concerned?
As the US Environmental Protection Agency and workmen's compensation authorities respond to the dangers to the public in general and to workers' safety - in particular with higher fines and insurance rates - it has become clear that we need to be diligent in controlling and properly disposing the polluted wastewater generated by power washing.
The greatest source of pollution in fresh water supplies, according to the National Academy of Sciences report to EPA in October 2009, is "storm water discharges from the built environment, as a source of contamination, a principal contributor to water quality impairment of water bodies nationwide".
The Federally mandated Clean Water Act "is the principle law governing water pollution control and quality of the Nation's waterways. The objective of this Act is to restore and maintain the chemical, physical and biological integrity of the Nation's waters" (33 U.S.C. 1251).
The part of the CUA that facility and property owners should give serious consideration and risk assessment to, is the penalty section. "On March 15, 2004, the Clean Water Act civil administrative penalties were increased to $32,500.00 for Class I penalties and $157,000.00 for Class II penalties. The maximum administrative penalty per violation remains at $11,000.00 per day" (U.S. Environmental Protection Agency website www.epa.cgov)
Among discharges prohibited to the Storm Drains listed in Section 301 of the CWA is "Power (pressure) washer that cleans such things as equipment, a restaurant's solid waste storage areas, or a parking lot and discharges the process water into a storm drain."
On December 28th, 2009, EPA announced its intention to initiate rulemaking to strengthen its storm water enforcement programme under the CWA, particularly by reducing the impact of storm water discharges from developed sites (See 74FR 68-617-6822).
There are additional State laws, such as in California, Department Fish and Game Code Section 5650-5656, Section 1, that states it is unlawful to deposit, into or place where it can pass into the waters "Any petroleum, acid, coal or oil tar or residuary product of petroleum or carbonaceous material or substance, discharging polluted wastewater to the carbonaceous material or substance in to the waters". Every person who violates this law is subject to a civil penalty of not more than $25,000.00 for each violation.
What are the options for management of the polluted wash water?
The recovery of the wash water is not complicated, when vacuum recovery systems are used because the operators of the equipment can:
1. Contain and collect the wash water and dispose through an on-site inceptor system that leads to the SEWER rather than the floor or storm drains.
or they can:
2. Contain and collect the wash water and drum it for disposal off site, contacting a licensed hauler who will manifest, truck and dispose of the wash water properly at a government approved disposal facility.
Or they can:
3. Contain, collect and clean the wastewater with a recycling system on site of each cleaning activity, enabling legal discharge to the on-site sewer.
Any person who conducts cleaning operations, which generate polluted wash water must perform their cleaning operations, based on established best management practices (BMP's) established by the local Water Quality Control Agency.
Most cities Sanitary District guidelines for legal discharge to the on-site sewer, require that the solids need to be removed from the wastewater to less than 350 parts per million, and oil and grease to less than 100 parts per million. Often, toxic metals also need to be removed to their standards, generally to less than 1 part per million.
If using cleaning agents, which are high in pH, a simple adjustment is required, by adding a decreasing agent to the wash water to bring the levels down to 5.5.-9.5, before discharge.
Why does the wash water have to be pretreated before discharging to the sewer?
American sewage treatment and conveyance facilities are antiquated. In some US cities, the sewage infrastructure is more than 100 years old and unable to meet the demand of the population it serves. EPA estimates that every year, more that 850 billion gallons of untreated sewage is released into American rivers, lakes and coastal waters.
Grease, gum, paint, leaves and dirt can build up in the intake pipes and sewers, creating blockages, which can create wastewater overflows into businesses, homes or storm drains. If toxic wastewater enters the sewer, it can upset the biological treatment processes at the treatment plant or even pass through to our waterways.
It is much less expensive to clean the wastewater at the source rather than sending a complex matrix of polluted wastewater to the sewage treatment facility to be cleaned.
Methods for Complying with Wash-Water Control Laws
- Identify where all storm drains are located
- Identify sewer outlets
- Avoid using toxic cleaners (e.g., hydrofluoric acid, muriatic acid, sodium hydroxide, bleach, etc.) Read the Material Safety Data Sheet (MSDS)
- Contact the local sanitary sewer district to determine their requirements to prepare the effluent for disposal after the wastewater is captured
- Learn about equipment available for containing and collecting wash water: vacuum systems, booms, berms, storm drain covers, vacuum recovery tools, wastewater holding tanks
- Learn about transportable waste water recycling systems that remove pollutants, enabling on site sewer discharge, significantly reducing the cost of off-site hauling and disposal
- Be sure to read the literature from the manufacturer of the equipment, which explains the capability of each component of the integrated system
- Request an on site demonstration for your specific cleaning activities, before you hire your service provider or purchase equipment
- Do the maths: Calculate how many pressure washers and or floor scrubbers are used for the specific cleaning activity conducted. For instance, more than one pressure washer is used to increase productivity when cleaning a parking structure. Did you know that the floor drains in parking structures are storm drains, which lead to the nearest waterway? Each pressure washer disperses 5 to 9 gallons of water per minute 60 minutes x 5 to 9 gallons of water/minute = 300 to 450 gallons of wastewater per hour per pressure washer.
Also, calculate the power of the vacuum recovery system and the capacity of the volume of wash water that is being treated. Does it collect and clean all the wastewater generated at a rate of 5 to 9 gallons per minute per pressure washer being used?
Solid Waste Disposal:
Know how the pollutants removed from the wastewater should be disposed. If oil, grease, toxic metals or paints are removed from the wash water, these solids are hazardous and should be drummed, manifested, transported and disposed by a licensed hauler.
Does it make cents to be environmentally compliant?
Investing in new technology maximises worker's productivity and increases profits. For instance, ride-on floor scrubbers or using flat surface cleaners which incorporate vacuums clean faster and more evenly, compared to pressure washers using hand held wands and guns, reducing time to complete a project. These tools also eliminate a complete step, rinsing the surface being cleaned. There is no over spray and the wash water is automatically collected.
Is it expensive to clean the collected wash water?
Cost of purifying the polluted wash water is minimal, ranging from .001 to 5 cents a gallon and takes only minutes, depending on the type of system used and concentrations of pollutants that need to be removed. Some systems recycle and reuse the wastewater, reducing fresh water consumption by 80%.
Comparative costs for storing, transporting and disposal of contaminated wash water at an approved facility, by a licensed hauler is much more cost prohibitive, ranging from .25 to .65 cents a gallon.
Preserving of our fresh water supplies, clean air and reducing energy consumption is critical to the sustainability of our world. Strong leadership and investing in good science provides sensible solutions in a manner that makes cents.
For more information:
Cathleen Parker, President, Parker West International,
T: 707-579-1257
E: [email protected]
W: www.parkerwest.com
22nd March 2012
---