Cleanzine: your weekly cleaning and hygiene industry newsletter 20th June 2019 Issue no. 875
Your industry news - first Number 1 for Recruitment

We strongly recommend viewing Cleanzine full size in your web browser. Click our masthead above to visit our website version.
---
Healthcare acquired superbug infections on the rise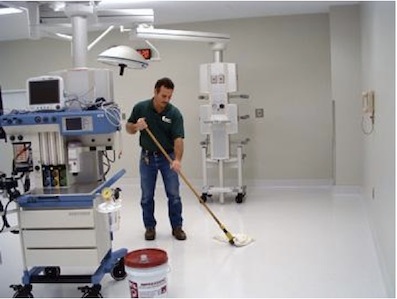 Concern is growing worldwide regarding the number of patients acquiring superbug infections during their hospital confinement. Healthcare-Associated Infections cause 16 million extra days of hospital stay in Europe and 37,000 attributed deaths. They also contribute to an additional 110,000 deaths every year. The financial losses estimated at approximately €7 billion. In the United States, over 100,000 deaths were attributed to HCAIs and the annual economic impact is over US$ 6.5 billion..
HCAIs are those infections that develop as a direct result of any contact in a healthcare setting while patients are being treated for illness and infections. They occur in hospitals and in the community and affect both patients and healthcare workers. They are normally associated with developed countries but the problem is spreading rapidly and is also being recognised in developing countries.
There are many causes of the spreading of HCAI's, but they are most commonly caused by the contaminated hands of healthcare workers and contaminated medical devices, the failure of staff to comply with local policies, procedures and guidelines and the use of ineffective disinfectants and sanitisers.
Alcohol based products such as hand gels are thought by some to be aiding the growth of these superbugs, allowing HCAI's to spread out of control.
The use of many conventional disinfectants and alcohol hand gels has failed to adequately address the problem. Genie Miracle disinfectants and hand gel (which does not contain alcohol) have been shown to be effective against HCAIs. Advanced Hygiene Systems has been awarded distribution rights for the new Genie range of miracle disinfectants.
Every year at least 300,000 patients develop an HCAI in the UK. These infections are often difficult to treat and they can complicate illnesses, cause distress to patients and their family, and in some cases may even lead to death.
If a patient contracts an HCAI, it may:
- Make their existing medical condition worse;
- Make their stay in hospital longer;
- Cause them pain, depression and stress
- Reduce their chances of successful recovery.
The European Centre for Disease Prevention and Control (ECDC) estimated that 4,131,000 patients are affected by approximately 4,544,100 episodes of HCAI every year in Europe.
Some common HCAIs
- MRSA. In recent years there has been a lot of media publicity surrounding drug-resistant infections such as Methicillin-resistant Staphylococcus aureus (MRSA).
- Clostridium difficile (C Diff) is a common cause of diarrhoea in hospitals. C Diff is very costly to treat and the conventional methods of eradication are potentially harmful to hospital works and patients alike.
- Acinetobacter causes HCAI's particularly in patients in intensive care units.
- Norovirus causes sickness and vomiting.
Hygiene Worlwide, a UK based company specialising in disease and infection control, has announced its new range, Genie Miracle, which is a range of high performance disinfectants and sanitisers which are claimed to be the most advanced of their type in the world. This impressive range of products of surface disinfectants, hand gels, soaps and wipes is designed to be effective in any environment including the medical, healthcare, sectors and are designed with the reduction of HCAIs in mind.
Genie Miracle disinfectants contain EnviroCair as the active ingredient. This has been proven to destroy the HCAIs of MRSA, C Diff, Acinetobacter and many more organisms.
These products kill HCAIs and other bacteria and viruses quickly and safely and they offer a high efficacy in preventing reinfection in the ward and across the hospital.
Genie Miracle is a safe disinfectant which does not contain alcohol so is suitable for all ages and faiths. The product range kills up to 99.999999% of bacteria, viruses and spores and can be used in almost any application and in any environment.
Hygiene Worldwide believes we should now be working to ensure that products that can kill viruses such as those that cause HCAIs, which then continue to prevent reinfection (such as Genie Miracle) are now being used to help prevent and reduce the risk of these deadly viruses from spreading even further.
The requirement is to kill these viruses which cause HCAIs quickly and permanently and Genie Miracle does just that.
Unlike most other disinfectants on the market, once applied Genie Miracle Disinfectant is said to keep killing germs and viruses for up to 14 days.
T: 0844 482 1974
www.hygieneworldwide.com
29th March 2012
---