Cleanzine: your weekly cleaning and hygiene industry newsletter 13th June 2019 Issue no. 874
Your industry news - first Number 1 for Recruitment

We strongly recommend viewing Cleanzine full size in your web browser. Click our masthead above to visit our website version.
---
ISSA/Interclean 2012: show review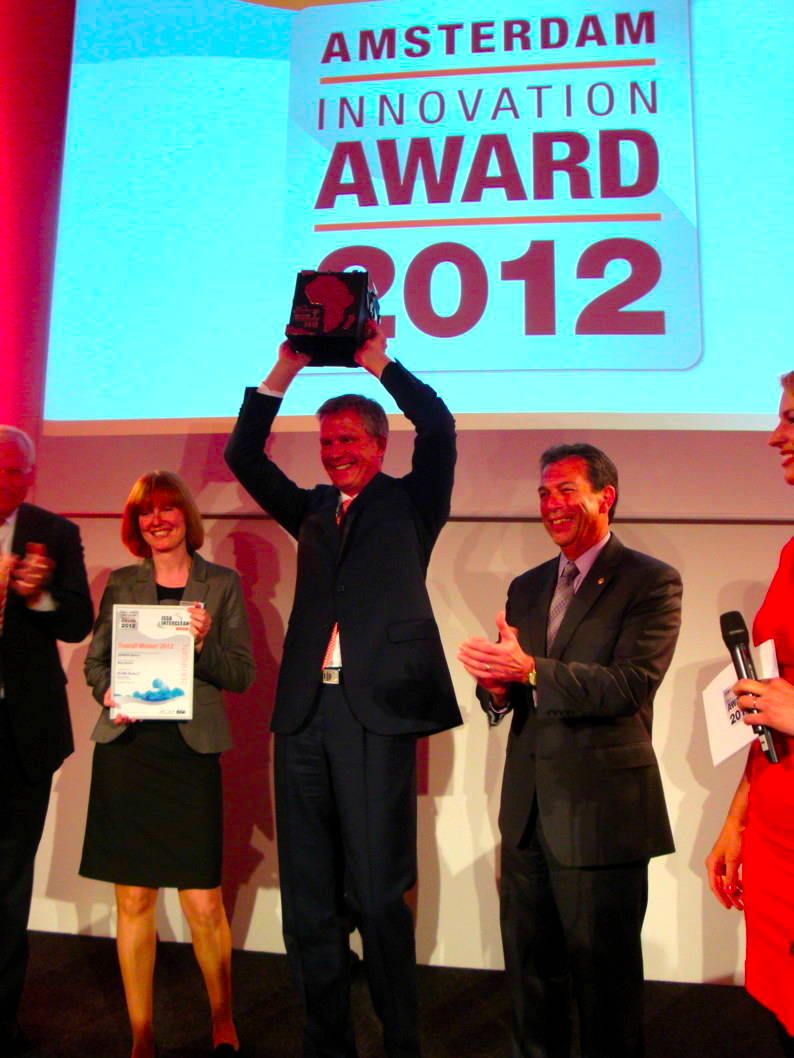 The Crowning Moment Vermop Salmon's Mag mopping system, which had so impressed us when we first saw it at CMS Berlin in September, was announced the overall winner. The winning team were clearly delighted and so were we as this cleverly designed mopping system, which uses magnets to attach the mophead to the mop is unlike anything we've ever seen before.
The jury explained that it felt that the Mag system brings an entirely new way of attaching mop covers to the mop holder. In an industry that is evolutionary rather than revolutionary, it was felt that the Mag system represents what appears to be a fairly simple step forward for an everyday tool. Its ease of use, hygienic touch-free operation, flexibility, intuitiveness and ergonomy all impressed the panel. And the fact that the Mag holder can be used with different mop types makes it a practical solution for today's result-orientated cleaning operations – offering the best mop for each job in a practical and trouble-free way.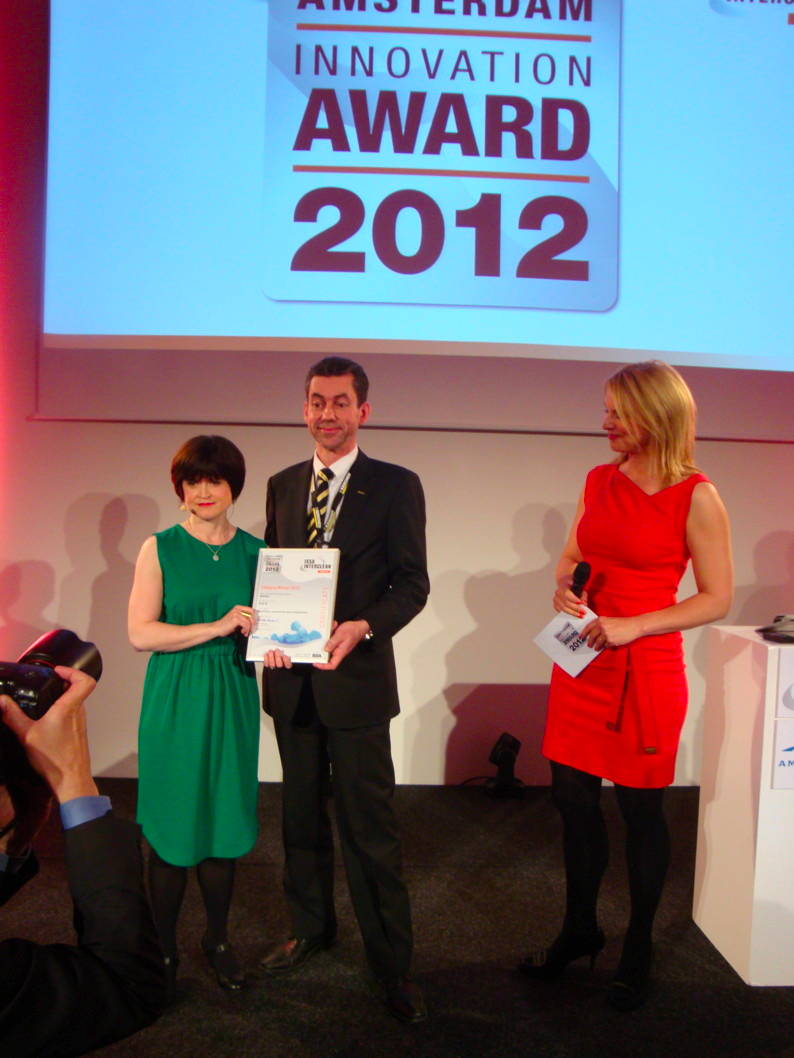 The B 80 W from Karcher is an 80-litre walk-behind scrubber dryer designed for areas between 1500 and 3000 square metres. Simplicity and time saving are the key criteria for any user when purchasing a machine like this, and the B 80 W meets those needs. One of the features that impressed the judges most was the intelligent RFID key system. This consists of three different keys with different levels of authorisation – there is one for the operator, one for the supervisor/facilities manager and one for the service technician. All necessary data is stored and memorised on each user's key, so the operator becomes comfortable with the machine very quickly, which means that the risk of errors is minimised and training time reduced.
Other features such as automatic tank filling and rinsing, eco-efficient operation and the tool carrying accessories make this a practical, easy-to-use machine. The judges felt Karcher has introduced some apparently simple features which have in fact been very thoroughly thought-out and show a real understanding of how the machine operators work day-to-day.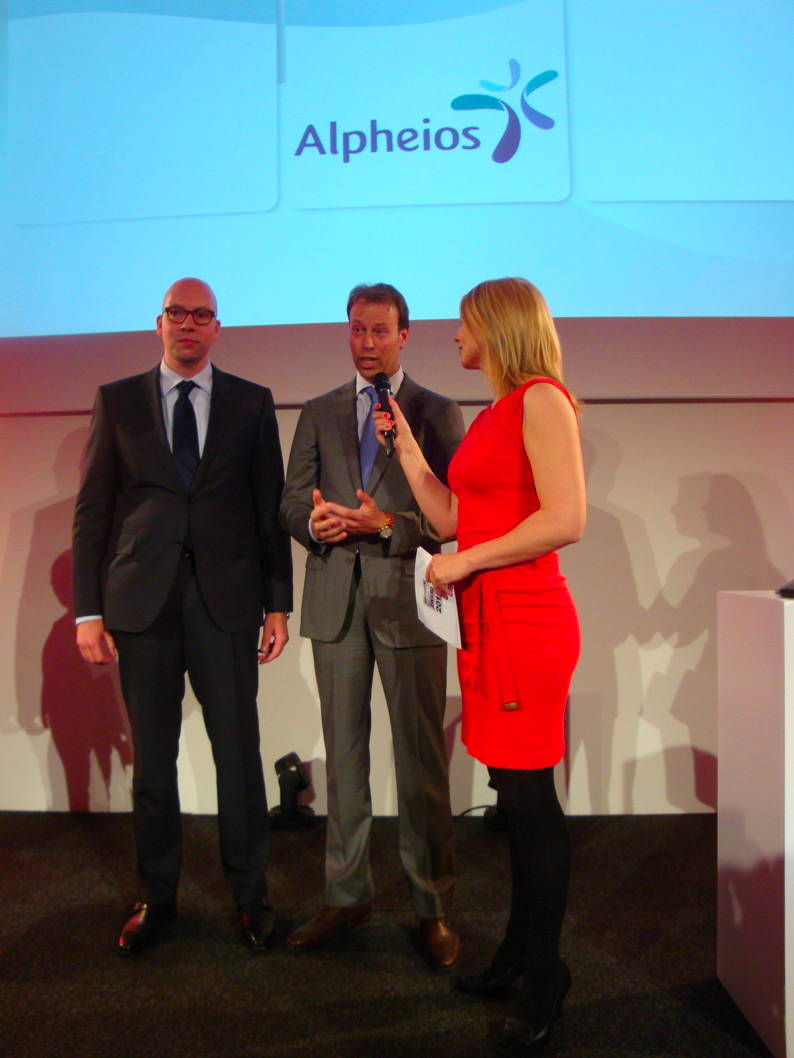 Infection Prevention Monitor (IPM) from Alpheios, offers hospitals and other healthcare institutions a practical insight into how they are dealing with protocols for infection prevention, and how the risk of cross-contamination can be avoided in their buildings
Independent hygienists carry out inspections using the IPM app on an iPad, then provide a full report along with advice as to how performance can be improved.
The system goes well beyond hygiene and cleaning – it also covers the handling of patients, wound care, the state of the building, medication and food handling. It is module based so users can decide which areas should be measured, and to what extent.
The judges felt that in developing this system, Alpheios is addressing a key area of modern hygiene practice. The awareness of hospital-acquired infections has increased significantly in recent years and our industry can play a key role in addressing the challenges associated with effective hygiene practices.
Not only does IPM bring problems to the attention of the facilities manager, it offers solutions too – training programmes and checklists are provided. And combating an infection outbreak in a hospital is extremely expensive – in terms of money and public perception. IPM can help to prevent such scenarios taking place. The judges believe such a system can make a truly significant difference to hygiene and to health.
Sustainability was a key consideration for almost all of the entries.
Chairman of the Amsterdam Innovation Award, Michelle Marshall, said that from all the 71 entries they saw this year, it was clear that manufacturers are really thinking more carefully about the solutions they develop in terms of how they fulfil their customers' needs – with more ability to tailor solutions for example.
"It's encouraging to note the increasing use of web-based solutions, which until now the cleaning sector has been largely slow to adopt," she said. "Sustainability has been a key consideration for almost all of the new product entries we have seen in this year's awards. This reflects how deeply these values have become embedded in the industry as a whole."
Visitor's Choice winner:
For the first time, the visitors had a chance to vote for their favourite nominee. They selected category winner Alpheios with its IPM as winner of this year's competition.
Amsterdam Innovation Award supports African water project
The Amsterdam Innovation Award supports the African Medical & Research Foundation (AMREF) Flying Doctors. All the registration fees received from exhibitors, which amounted this year to € 10,650, is being donated to the AMREF project in Kajiado, Kenya. The project aims to provide accessible water and sanitary facilities for the community and the AMREF representative said that this money would allow for the needs of about 500 people to be met.

Prof. Dr. Michael Braungart: an overview on trends
One of the highlights of the awards ceremony was the presentation made by Prof. Dr. Michael Braungart. We thought 2010's keynote speaker couldn't be equalled but here again, we were held enthralled as we were surprised with new facts and figures and given lots to think about.
For example, he said that recent studies have shown up 60 – 80 different cleaning chemicals in breastmilk, and that there are 40 times more plastics in some areas of the Pacific Ocean than there is plankton. Scary eh? I didn't quite catch the volume of heavy metals in water – much of which comes from cleaning chemicals - but it was even scarier.
But it wasn't just about the shock factor. He had some useful suggestions too. He said that we as an industry need to provide eco-effectiveness as opposed to eco-efficiency; he also suggested that we should sell the service but keep the materials… that this way, we could supply for a fixed period an expensive, top-of-the-range floor cleaning machine to a country/company that could afford to buy it, then when that period is up, replace it with another top-notch machine but instead of scrapping the original, offer it to a country/company that could not afford to buy new. Sustainability, he pointed out, is simply not good enough – we have to go further than that. And rather than trying to be a little less bad, we should be striving to be beneficial.
"We're designing cradle-to-cradle products but are contaminating them with cleaning products. Why?" he asked. He said that in the Netherlands, for example, breathing fine dust takes on average, five years off the average person's life. "Why should our lungs do the cleaning for us?" he asked. "We should be developing cleaning products that hold the dust on the surface and clean the air, so it can't reach our lungs. We should be making surface treatments rather than cleaning products."
He also said that we should look at being pro-microbial, rather than anti-microbial. "Why make products that kill 95% of the good microbes, just to get to the bad 5%," he asked. He has a point.
He also said that we as customers should not pay a higher price for innovation, as we're providing a platform for that innovation. Interesting that but it's one point I'd disagree with him on. Someone has to pay for the R & D…
Miniskills Competition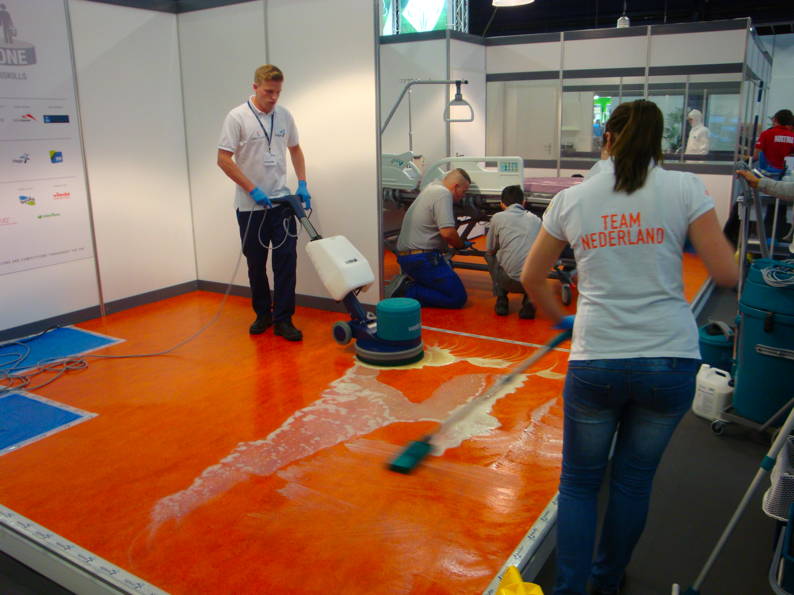 After chatting to Peta and Alan Tilley from Prochem Europe and learning more about the Royal Warrant of Appointment to HM The Queen, which the company was granted this year for the supply of carpet cleaning products (no mean feat that, as we learned, so congratulations Prochem!) we took some time out from speaking to all the manufacturers, and instead watched the 'Miniskills' cleaning competitions taking place just opposite Prochem's stand.
We were impressed with the efforts made by the Dutch professional and student teams, as well as teams from Hungary and Austria, in carrying out specialised cleaning processes as part of the competition. We understand that the teams are competing during several timeslots throughout each day and if you're new to cleaning and think it's easy, we suggest that you get down to Hall 6 see these teams in action!
Kimberly-Clark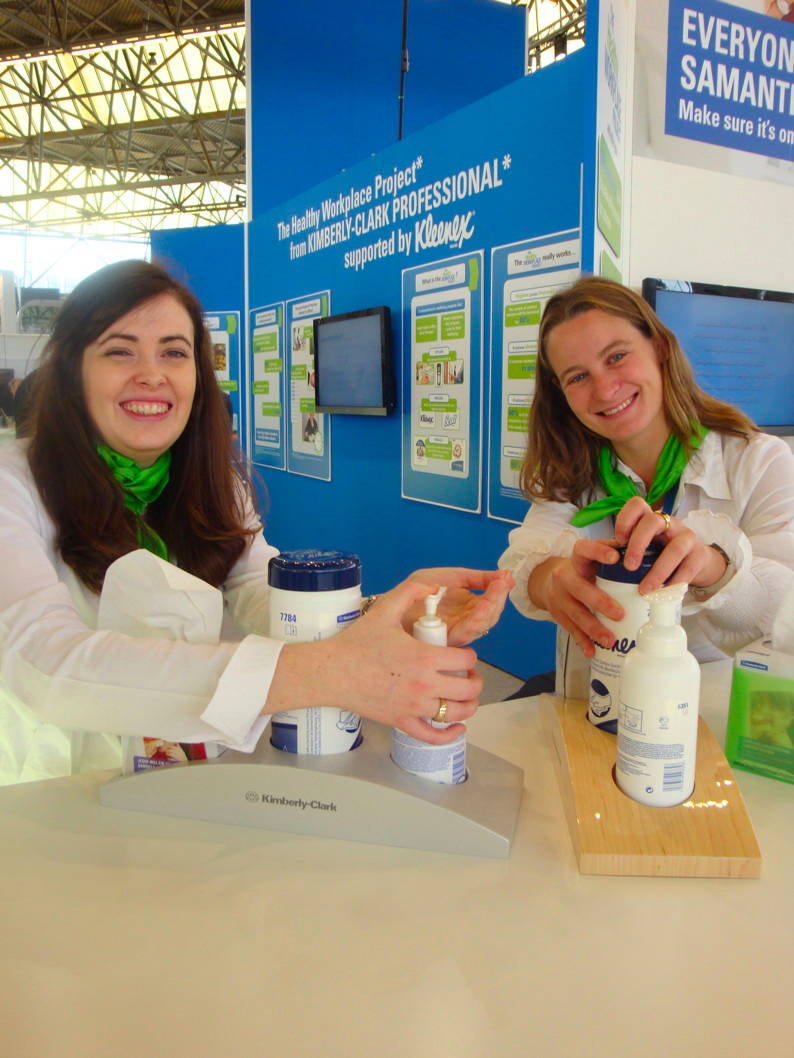 We're all worried about the spread of germs in the workplace and Kimberly-Clark has come up with a great way of ensuring that all the products we need to keep ourselves and our immediate workplaces clean as part of its Healthy Workplace Project, (ably outlined to us by the company's Richard Millard - but more of that later).
The hygiene desk tidy is shown here on stand 11.317 with Donna Marie Treanor (all the way from Armargh, Northern Ireland) and Nathalie Brillaud from France.
T: +441737736000 E: [email protected] W: www.kcprofessional.com
Lucart Group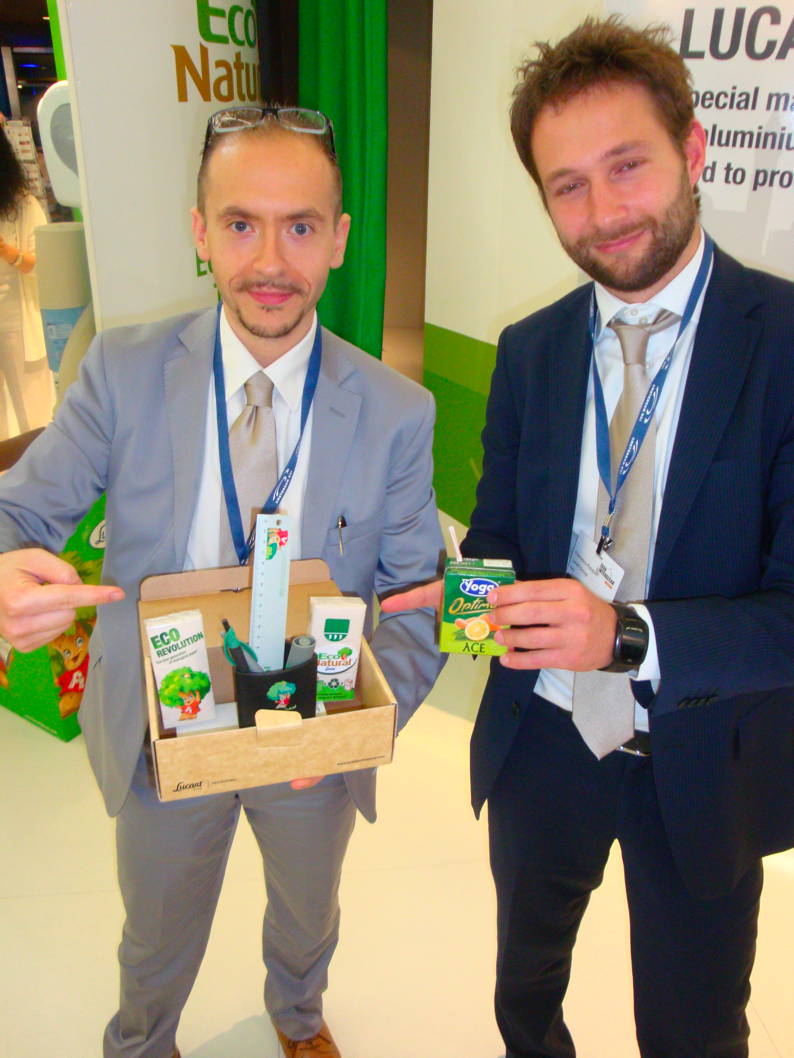 Regular readers of Cleanzine might remember our report from the Pulire show in Verona last year, in which we publicised our admiration of Italian company Lucart and the way it operates.
Eco Natural Lucart spearheads the new generation of ecological paper, in as much as it is made by recycling the cellulose fibres found in beverage cartons (such as Tetrapaks), that would otherwise end up in a rubbish dump. Thanks to the company's clean and zero-waste technology, the production process is able to separate the layers making up drinks cartons and it does this without the use of any damaging substances whatsoever. The resulting products are very soft, strong and absorbent and are Ecolabel certified too.
We were impressed enough as it was, but having met up with the company's export sales assistant Omar Balducci and export manager Francesco Pasquini at the show yesterday we realised that this zero waste policy has gone one stage further. The contents of this box (itself made from recycled Tetrapaks) is filled with products made entirely from the other bits that can't be made into tissue products etc. such as pens, highlighters, a pen caddy and a ruler, as well as tissues and a notepad.
Brilliant!
T: +39 338 5066901 E: [email protected] W: [email protected]
Hako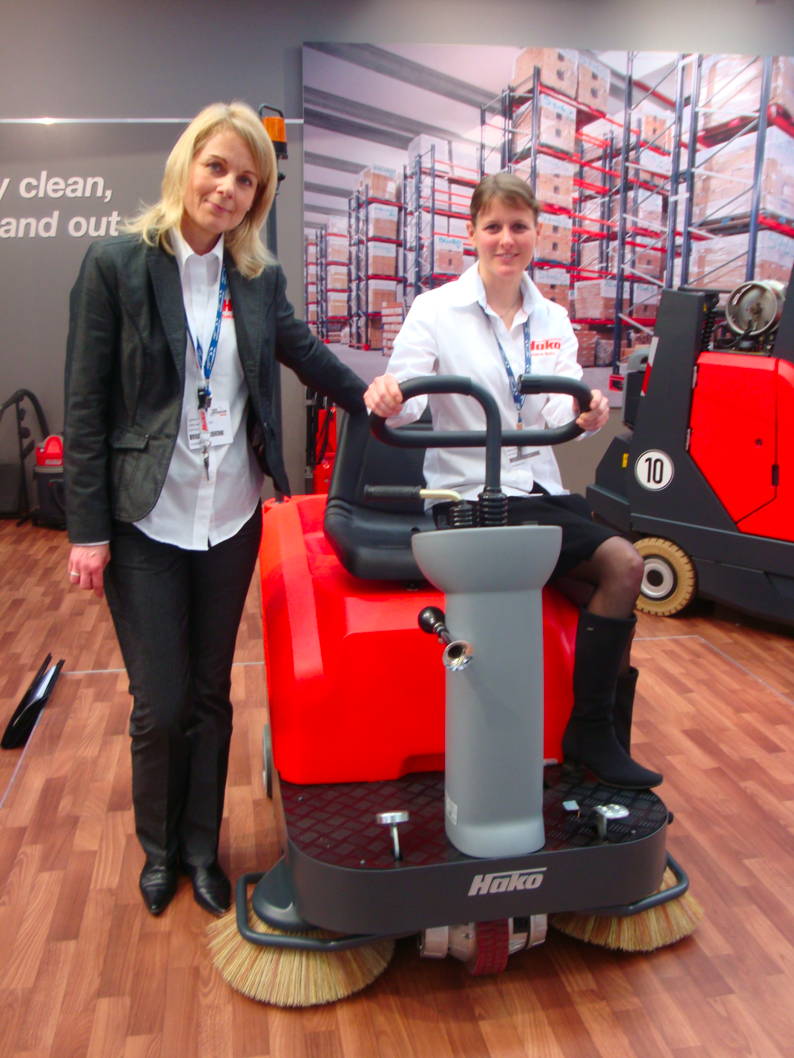 The new Hako-Jonas 800E sweeper combines the compact dimensions of a walk-behind with the efficiency and convenience of a ride-on. Sabine Paul (left) and new colleage Viviane Bolz (right) told us that the manoeuvrability, full visibilty of the work area and comforable seating position together with incredibly easy operating procedures make this machine quick and easy to ue for both the occasional user as well as for professional service providers. Designed for warehouse aisles, however an area coverage of up to 6,660 square metres per hour and 3.5 hours operation one one battery charge, means that this compact machine is nevertheless more than capable of large area cleaning. Conveniently, the two "Take-it-Easy" dirt hoppers provide a volume of 60 litres and are easy to remove by hand to empty.
Truvox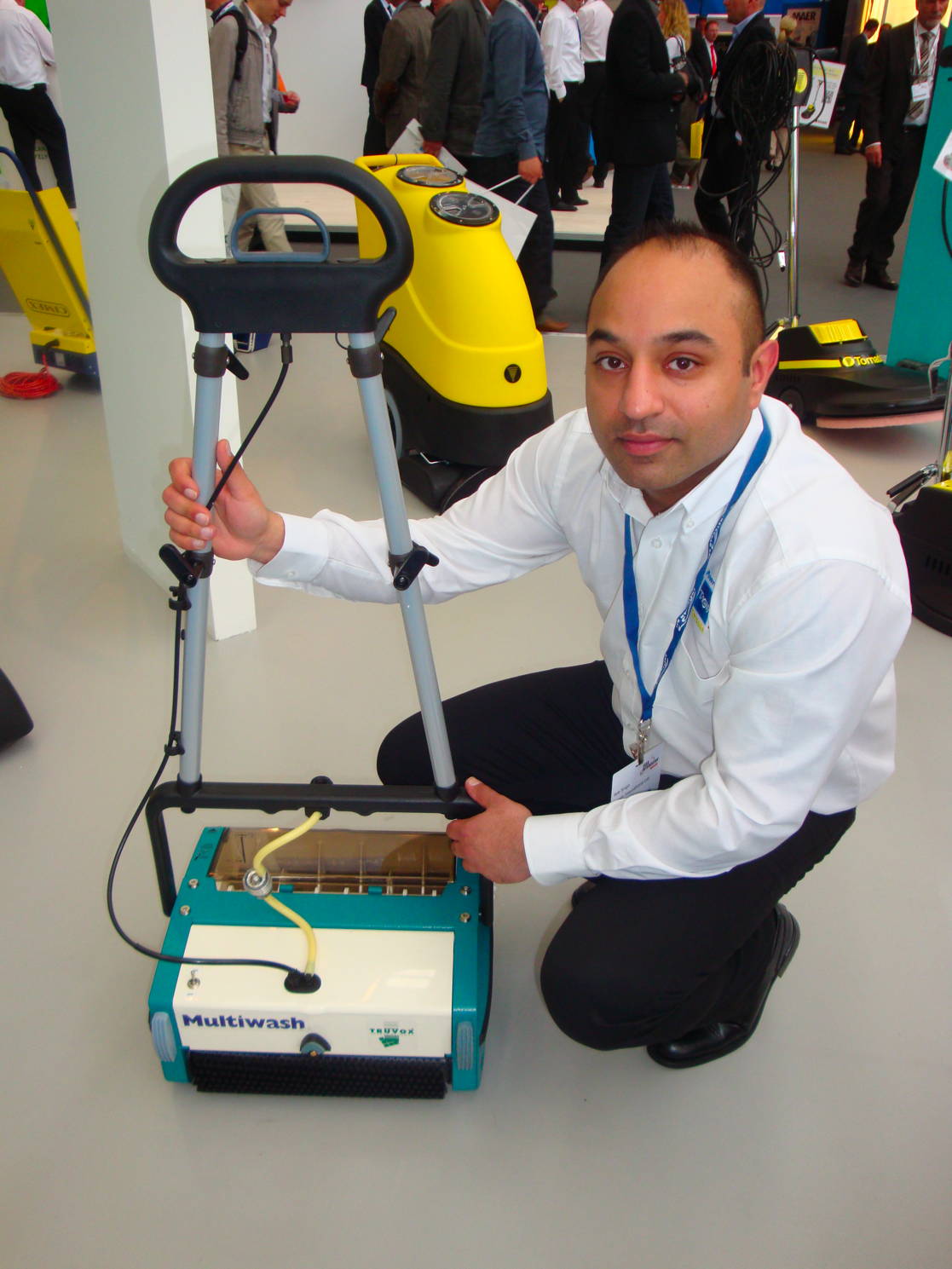 Something was different about the Truvox stand this year but it wasn't until we stepped onto it that we realised why... It had a much more international flavour. Indeed, on closer inspection, we noticed that the stand staff had the names of the other brands the company represents - Tacony, Powrflite and CFR embroidered on their shirts. It also had the a newly appointed European Sales Manager who was clearly a good appointment as the stand was attracting visitors from many countries other than those that make up the UK.
Rob's colleague David Overell told us that there had been lots of visitors from Russia, France, South Africa, Israel, the Far East and in particular Japan, as well as the Middle East and Israel - not bad for a company that in my 20 years in the cleaning industry, I've always thought of as 'Truvox from Southampton'.
When David also told me that 50% of the company's business is now overseas - with the company's equipment being used in 50 countries as Truvox and 81 as the Tacony Corporation Commercial Floorcare, I realised just how far things have come.
Rob is pictured with a battery-operated prototype of the popular Multiwash floor cleaning machine that mops, scrubs and dries on both hard and soft floor coverings in one single pass. This, we understand, has been well received by visitors to the stand. The projected run time is 45 minutes cleaning on a two hour battery charge and the machine is said to be highly effective on 'difficult' floors including non-slip safety floors, low pile carpets, escalators and travelators and entrance matting. It is quiet in operation and offers excellent manoeuvrability and productivity - helped by the accessible and easily removable tanks for fast filling and emptying.
T: +442380702200 E: [email protected] W: www.truvox.com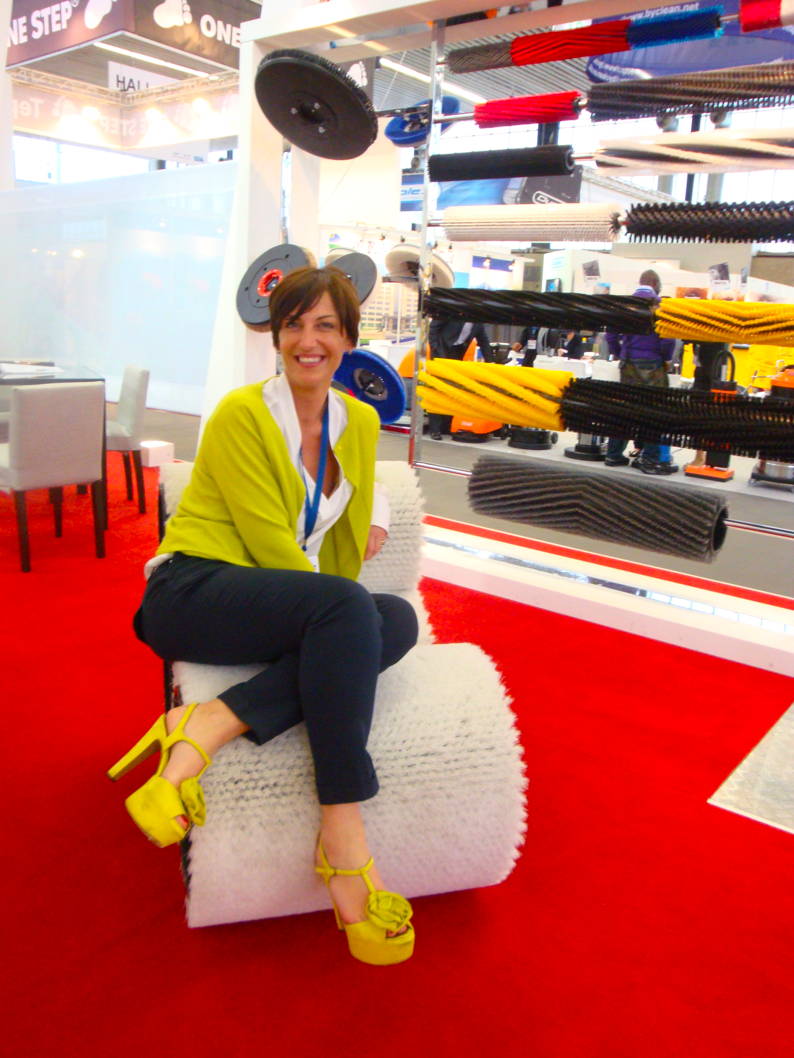 What a great way to find a comfortable seat when you work for a roller brush company!
This amusing conversation piece was found on the TreColli stand and by the looks of it being thoroughly appreciated by a clearly delighted Elisa Ferrari between dealing with visitors. Verona based TreColli is a major supplier to the manufacturers of the world's leading cleaning machines. This year they are finding great interest from potential customers who are already connected to their existing customers. Just proves the point, when it comes to a good thing, it's who you know that matters...

Vileda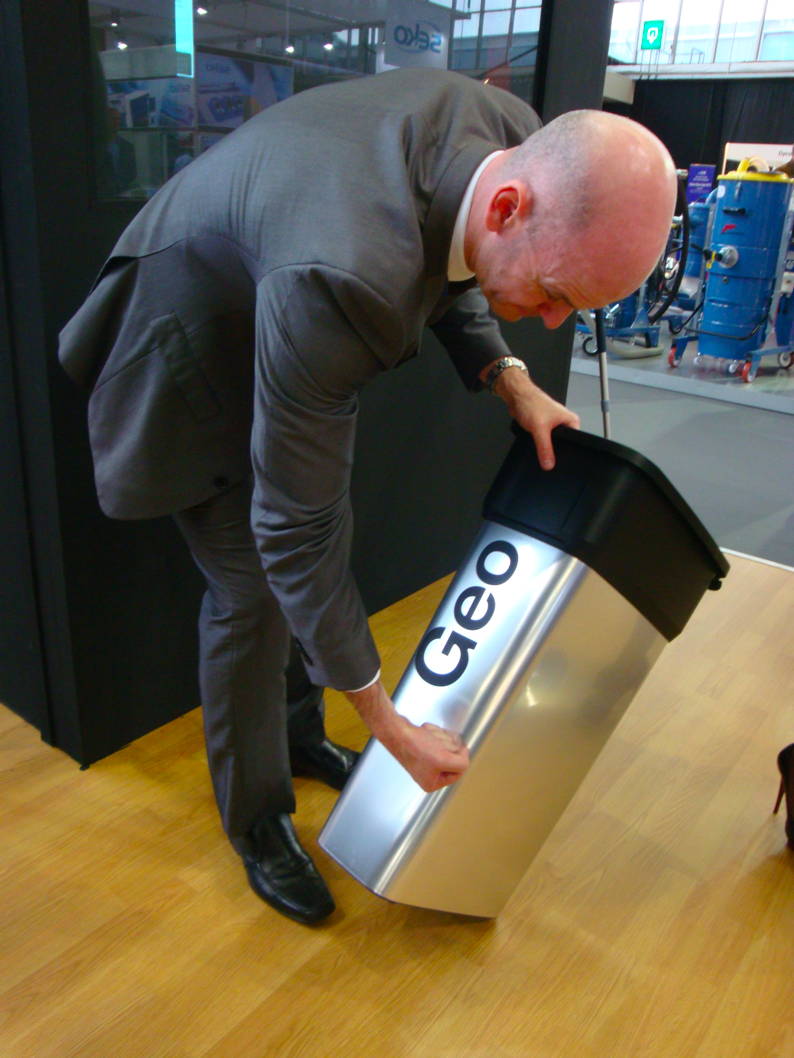 Just when you think you've seen everything you can when it comes to waste bins, along comes Vileda Professional (04.307)! We were really surprised to discover that these bins aren't actually made from stainless steel, but are instead, plastic! This means they look smart and expensive, but are not prone to some of the problems one finds with stainless steel products, such as the greasy fingerprints, the scratches an the dents (our picture shows the company's Steve Barber trying to dent one). They have anti-slip rubber feet so they won't scratch the floor, a hook just under the rim so that any sized waste bag can be attached and lifting handles at both top and bottom. Steve told us that the show had been "incredible" and that the team was handling enquiries from lots more visitors than normal from places Russia and India.
T: +49 6201 80 87 1000 E: [email protected] W: www.vileda-professional.com
Proandre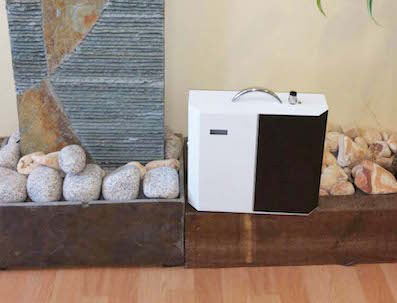 We really liked the new orange and blue colours on Proandre's stand and our words of praise soon persuaded the team to pose for a photo for us. In the centre is Jose Vilches, who distributes Proandre's products in France.
Proandre is a Spanish firm with international presence, dedicated to the production and istribution of hygiene systems for the washroom and accessories for the pest control business.
It specialises in: auto sanitisers, sanitary bins (manual, automatic or pedal), air fresheners (with fan or aerosol), soap and gel dispensers (manual or automatic), hand dryers, ozone generators, insect catcher lamps and baby changing stations.
T: +34 93 860 03 41 E: [email protected] W: www.proandre.com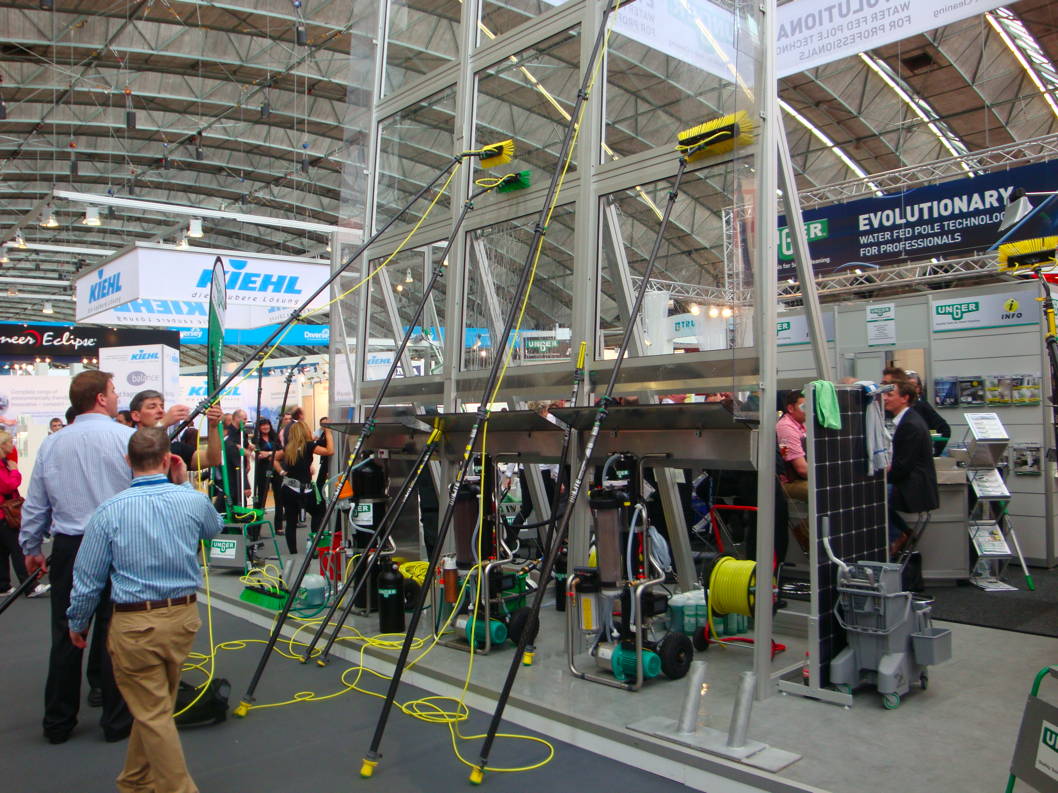 Unger is showcasing its new HiFlo nLite water-fed pole system and Dave Rogers - like us, all the way from the UK - told us it has been attracting a lot of interest. "This will change the way that windows and façades are cleaned forever by combining the best features of our telescopic and modular poles into a brand new system that delivers what we believe are unrivalled results and adaptability," he said.
The new system offers better rigidity for more control, yet is up to 50% lighter in weight than other similar products - thanks to its carbon fibre technology - and every part of the system, from clamps and levers, to brushes, has been created to deliver the highest standards with cutting edge looks.
The weight/rigidity balance makes HiFlo nLite easier and more comfortable to use, even for longer periods of time, while extensions can be added quickly and easily, and equipment adjusted to tackle any cleaning situation, which means that downtime is kept to a minimum. Adaptability is another good feature, as you can choose to use as many poles or attachments as you need for the job in hand. This makes it easy to clean glass and building facades, stainless steel, solar panels, signage, and vehicles. Further a cleverly designed hose management system allows you to have the hose inside or outside the pole.
The four section master pole cleans up to a height of 6.63m/22ft, but taller locations are easily reached by adding two-stage extensions to the base of the master pole. These extensions, each adding another potential 11ft of reach but crucially not adding anything to the width and feel of the pole, measure 35mm in diameter – an optimum size that fits easily into the hands of the professional for quick and comfortable cleaning. Even if you're cleaning to a height of around 65ft the HiFlo nLite offers the 'gold standard' in terms of ease of use and results – because it combines just the right amount of rigidity to control your cleaning, but in a lightweight system that's better for the professional to use.
Every part of the new system has been designed specifically with the user in mind. The clamps, which adjust pole height or attach the extensions, are simple to operate – no fiddly allen key-type devices needed – and easily adjustable to ensure the right tension; plus the gooseneck attachment is made from carbon fibre, again keeping weight to a minimum. Even the brushes are lighter – but that doesn't mean less features or functionality. On the contrary, a selection of brushes are available, one of which, at 60cm/24in, is large enough to quickly clean solar panels, featuring bristles designed to get into the smallest corner and help with scrubbing actions. Whereas conventional brushes usually only have two jets, HiFlo nLite brushes can feature up to 10 quick release jets, making it much easier to control the water flow and rinse surfaces.
T: (44) 01902 306 633 F: (44) 01902 306 644 E: [email protected] W: www.ungerglobal.com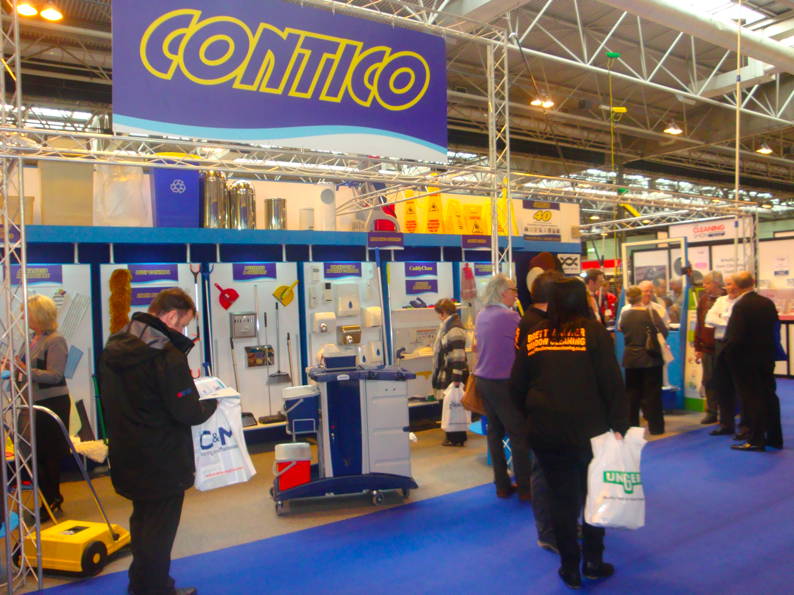 "It's all a blur!" exclaimed a delighted Vernon Holmes when we visited the Contico stand at the end of the week. Most readers will know that the company was recently taken into new ownership by mill operator Robert Scott & Sons. Contico has been a major and popular player in the professional janitorial sector for the past 37 years and the acquisition by Robert Scott & Sons will both enhance and secure the company's future in the supply and manufacturing of its range of added value, manual cleaning products.

Electrolux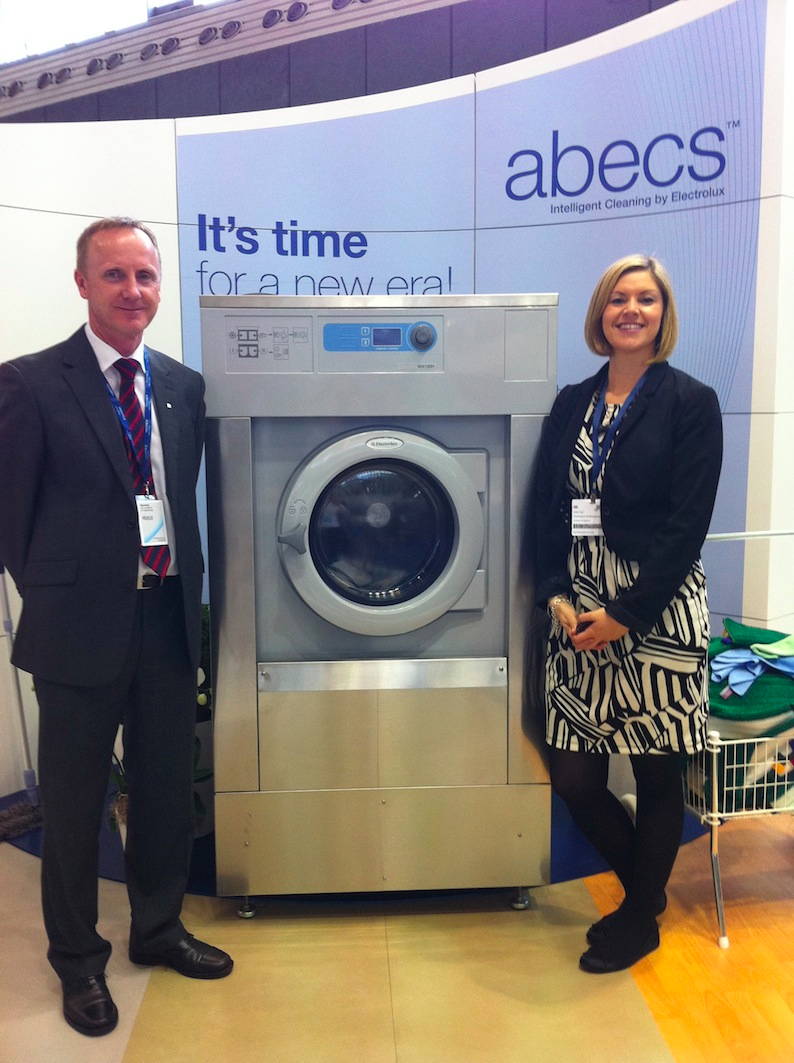 We've uncovered yet another great innovation being launched at the show – this time from Electrolux.
The company's new Abecs laundering system can double the life of any manufacturer's microfibre cloths and mops whilst controlling the spread of bacteria on surfaces and the cloths and mops themselves.
Microfibre cloths and mops have proven to be very effective in collecting bacteria and organisms within their fabric – but this can pose a health risk unless they're handled and decontaminated correctly. With the Abecs concept, microfibre becomes a literal magnet for dirt and bacteria - contaminants are stuck fast as if to flypaper!
The microfibre is then laundered by a specific professional washer extractor with special mop programmes. Not only is the outcome clean microfibre, ready to perform as its manufacturer says it will, but Abecs will also prevent the spread and growth of bacteria in soiled cleaning textiles and when damp, leaves a residual sanitation effect on surfaces in between cleaning.
So how does it work? It works by physical attachment of bacteria to the microfibre that is processed by the Abecs cleaning concept. Micro-organisms and bacteria are attracted to the positively charged fibres by their net negative charge. The positive charge is automatically imparted into delicate tiny microfibres with no other user intervention required.
Unlike chlorine, ammoniums peroxides and alcohol products, abecs is not a biocide or disinfection chemical, that can damage fabrics as well as a being a threat to the health of cleaning staff by causing allergies, asthma and other respiratory illnesses. The risk of building resistance with microfibre within the Abecs process is significantly lower than with chemicals, making it perfectly sustainable and long term effective to use. Any bacteria held within cloths and mops cannot proliferate, so the handling of soiled cleaning materials becomes much safer. Microfibre can be laundered at lower temperatures and avoids the need to tumble dry, resulting in large time and energy savings.
Compared to traditional cleaning methods and based on a 42 ward hospital operating two cleaning shifts a day, 365 days per year, 2555 working hours per year can be saved by reducing the number of hours required to prepare detergents and drying the microfibre. This equates to an effective saving of £17,805 per year on labour costs, producing greater productivity.
Proven results show that intelligent cleaning with Abecs is essential for the protection of any business. It will save time, save money and ultimately can save lives.
For further information, please contact: [email protected]
Gojo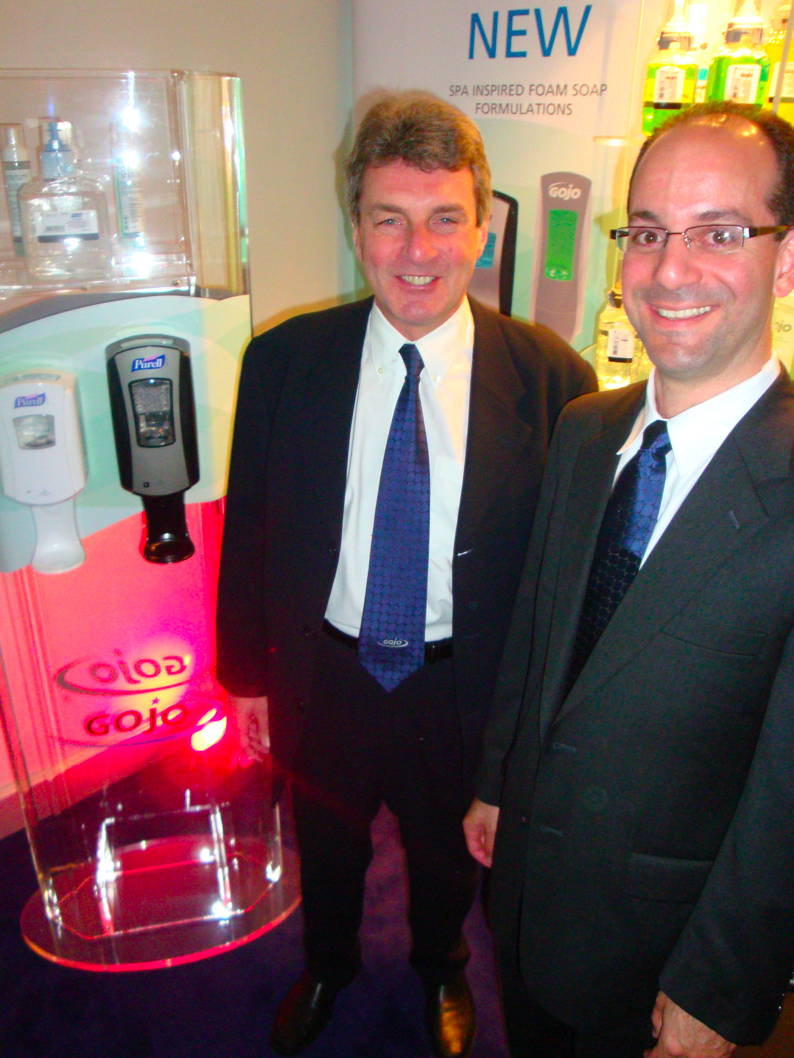 Gojo has so much that's new to talk about, that it hired a separate room to tell us about it, rather than meet us on its stand. We were surrounded by bottles of cleverly formulated hand gels but our attention was drawn to the company's new, technologically advanced dispensing systems.
The company's Mike Sullivan (thanks for recognising me Mike despite the 16-year old photo that appears on Cleanzine each week!) told us that this 'next generation' of hand hygiene solutions has been created through a combination of hi-tech research and development, industry knowledge and customer feedback. The result is, he said, the most exciting new development to hit the industry for years, combining all the qualities Gojo is known for – health, hygiene, sustainability and luxury – with some unique added benefits.
The new dispensers are easy to service and built to last – with performance guaranteed – and, cleverly, they can be supplied with message boards that can deliver safety information, news or even advertising.
LTX – The Lifetime Performance Dispenser (touch free) comes in 1200ml and 700ml sizes. The company believes that the 700ml LTX is the smallest sanitary sealed dispenser on the market.
ADX – The Anywhere Design Dispenser (manual) is available in 1250ml and 700ml sizes.
Both systems carry the Gojo Lifetime Performance Guarantee.
Not only do batteries come included in the LTX, Smart Electronics ensure that this touch free dispenser uses a minimal amount of energy per actuation, eliminating the need to change batteries during the life of the LTX in most installations.
Gojo is so confident in the ability of the LTX to offer continuous, long-term results that, in the unlikely event that the batteries do run out, it will happily provide a new dispenser, free of charge.
Great care has been taken to reduce the amount of material used in the manufacture of the dispensers. Batteries are pre-installed, meaning that packaging is further reduced, and they can't be activated until the tag is removed, saving energy.
All Gojo and Purell refills are sanitary sealed and with the new ADX and LTX, recycling is also made easier thanks to the refill hosting a recyclable pump that can be easily removed once the refill is empty.
Gojo Controlled Collapse bottles are a patent-pending innovation, engineered to hold their shape while emptying. The bottles remain flat to the surface of the large sight windows at the front of the units, making it easy to monitor soap levels at a glance but in a more attractive way.
Gojo Smart Flex bottles are made from durable, recyclable PET materials that provide crystal clear clarity while using 30% less material than rigid HDPE versions.
New formulations provide a treat for the senses, bringing a new world of colour and fragrance to the washroom, with Ecolabel certification already secured. The company is, however, planning for Purell to be the first product to persue the new UL standard which encourages manufacturers to use plant-based formulations rather than synthetics.
Enriched with moisturisers, natural extracts and skin conditioners, the soaps are a pleasure to use thanks to their luxurious textures and inspiring aromas including Lemonberry, Forestberry and Freshberry. Fragrance and dye-free options are also available, together with an Antibacterial Foam Soap.
Gojo's European Marketing Manager, Suzanne De Maine, said: "Gojo has spent several years developing these products, consulting with its customers and users every step of the way, to ensure that we deliver all that the market wants. We are delighted with the results, which truly set a higher standard in effective hand hygiene solutions."
T: +44 (0) 1908 588444 E: [email protected] W: www.gojo.com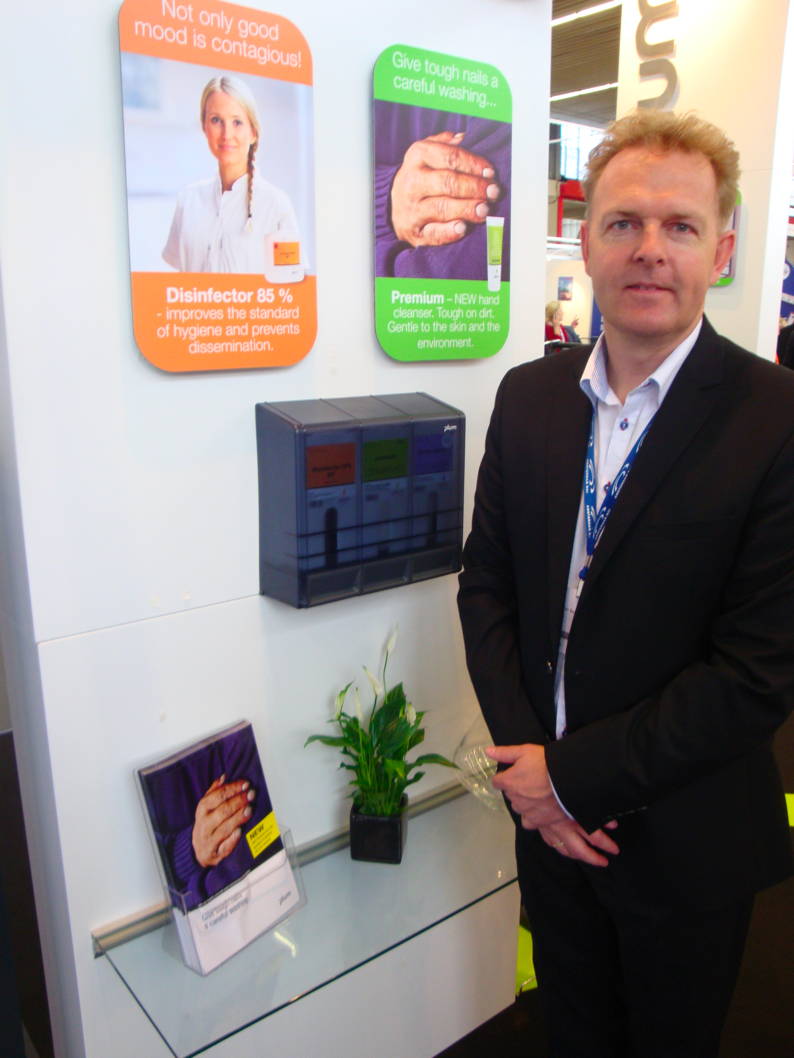 John had told me about a helpful stranger from Denmark who'd come to his aid when his laptop gave up on him at a show in Poland three years ago, so when he saw the gentleman on stand 04.327 he recognised him immediately. Bo Winther Barkholt from Plum, told us: "Every time we're here we have a great show and it's been the same this time."
Of course you can't really have a great show without some great products, and Bo told us that there had been a lot of interest - particularly from eastern Europe and Russia - in his new efficient Premium hand cleanser, which is tough on dirt, easy on the skin and kind to the environment.
"Now you can remove even the most fierce oil and dirt with an efficient but mild hand cleanser that doesn't contain solvents," he said. "Our new Premium hand cleanser has a unique composition of selected vegetable ingredients that dissolve dirt and at the same time have a moisturising effect on the skin.
"It removes fierce and sticky oil dirt such as diesel oil, sooty oil and brake oil, as well as wood preservatives and paints."
Bo explained that the cleanser is lightly foaming. This makes it easy to rinse off and ensures it does not stick around the cuticles and nails. It also leaves the skin feeling soft.
Pleasantly fragranced, the product comes in a handy 250 ml tube as well as a 1.4 l bag-in-box.
T: +4564712112 E: [email protected] W: www.plum.dk
HTC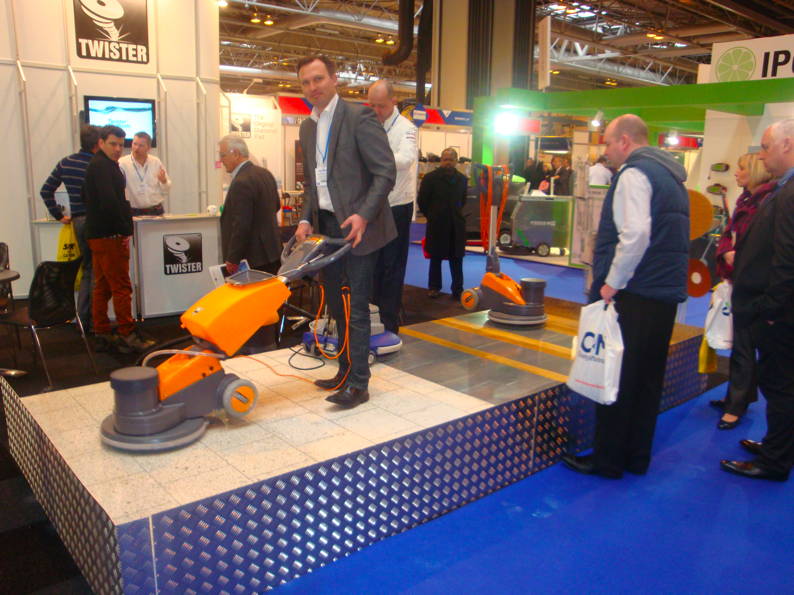 Swedish company HTC's divisional business manager Andrew Baird was demonstrating the Twister diamond cleaning system as we walked past. We knew people were singing the system's praises so stopped to find out more.
"The secret behind this system's outstanding results is mechanical cleaning with billions of microscopic diamonds and pure clean water," explained Andrew. "Twister can be used on any type of floor with no need to change cleaning method or cleaning machine equipment. This, combined with the elimination of periodic maintenance and the long lifespan of the Twister pads, cuts both cost and cleaning time."
Colleague Mitchell Connor, managing director, told us that the system is becoming popular in the retail sector. "In fact we're pretty much cornering the market," he said. "We have three out of the four biggest supermarket chains in the UK and the past 18 months have been incredibly successful. Last year we increased growth in the UK by 48% and this year it's up 53% on that. Business is also booming in the US.
The pair told us that systems are being sold in 62 countries now and with enquiries coming in from the South American market, the company is looking to relocate someone into Brazil to handle this work.
T: 0845 460 2500 E: [email protected] T: +4612129400 E: [email protected]

Bay West Europe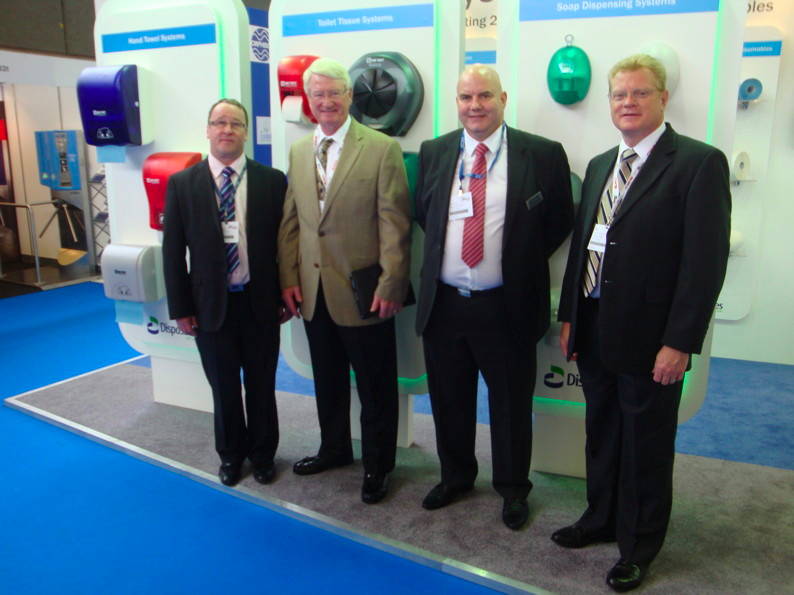 Bay West EuropeWausaupaper's Gary Rudemiller (vice president operations towel & tissue and Michael Wildenberg (senior vice president towel & tissue) are visiting the show from Kentucky in the US and are shown here with some of the Bay West Europe team.
Disposables UK holds the licence to manufacture and sell Wausaupaper's Bay West range of washroom dispensing systems in the UK and Europe.
Accredited with the EU Ecolabel, the range includes toilet tissue, hand towels and foam soap systems designed to put an end to wastage, over-use, abuse pilferage and run-out as well as offering cost savings.
T: +441484854434 W: www.baywesteurope.com
OspreyDeepclean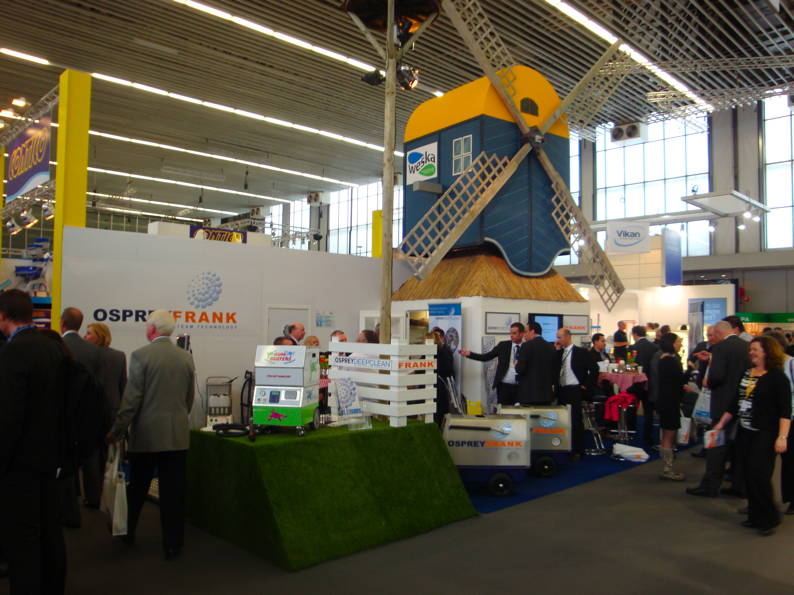 "Harnessing the power of Nature" is the theme of the OspreyDeepclean stand this year, explained the firm's Enrique Mena. That's why a windmill features so prominently on the stand - which of course is all about the cleaning power of water - in the form of steam to be precise.
A windmill may have been the centre point of the stand - but the focus was very much on the new range of machines - SteamForce - built in Germany by the two British / German sister companies Osprey and Frank. Judging by the tangible quality of these powerful new machines OspreyFrank is undoubtedly soon going to become as well known a band name for steam cleaning as OspreyDeepclean itself ever was.
T: +44 (0) 1242 513 123 E: [email protected] W: www.ospreydc.com

Centrego's Toucan Eco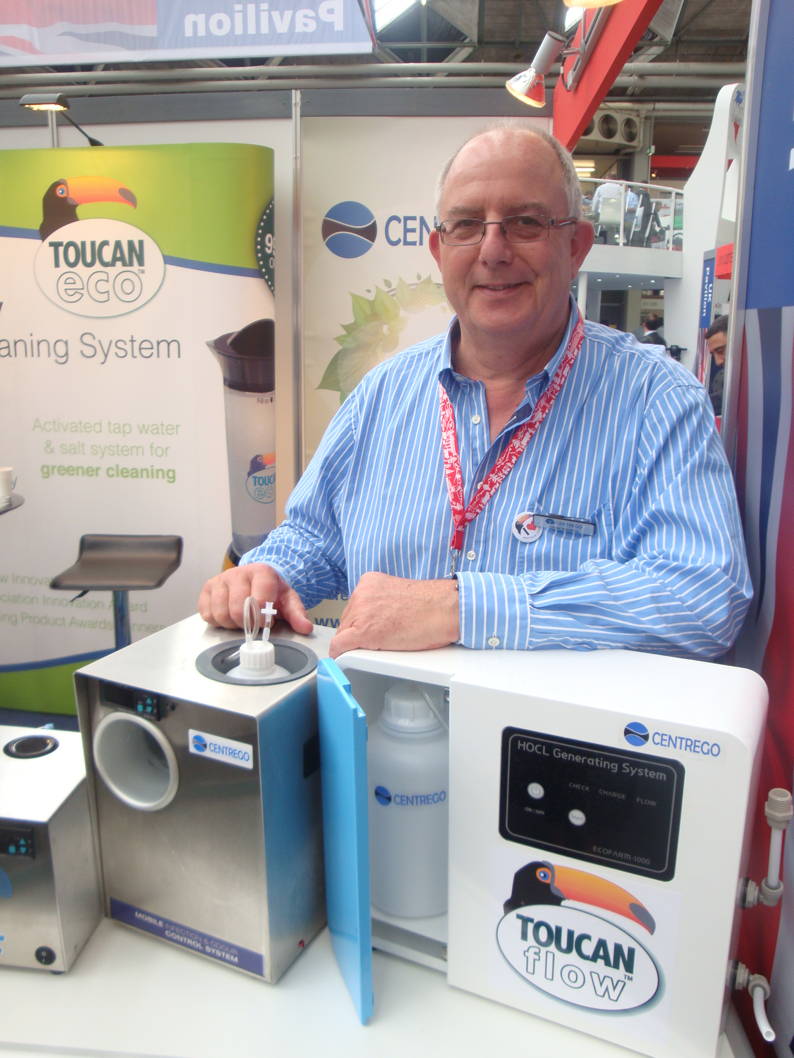 Since its launch in March 2011 the Toucan Eco system has challenged the way that environmentally friendly chemicals are produced.
Using only tap water and salt, this amazing device employs electrochemical activation to produce an effective disinfectant and cleaner in three minutes on the spot... No need for packaging, distribution costs or disposal of damaging residue.
Distributors have been appointed in around 20 countries but there are many new opportunities for both geographical and niche areas available, so if you're interested, visit the team on stand 09.412. We warn you though... you might have to wait your turn...
T: +441373812279 E: [email protected] W: www.centregoltd.com
The Snappy is the latest machine to join the range of well designed and innovative machines from Italian manufacturer Macro. While step-on scrubber-driers are not completely new, its the little ideas that go to make this one so neat. First of all, the operator space is in the centre of the machine, not only good for balance, but also for support for the operator's back, to reduce fatigue during the 3.5 hours battery run time. And then there's the easy access for maintenance simply by removing the front panel as shown.

Vectair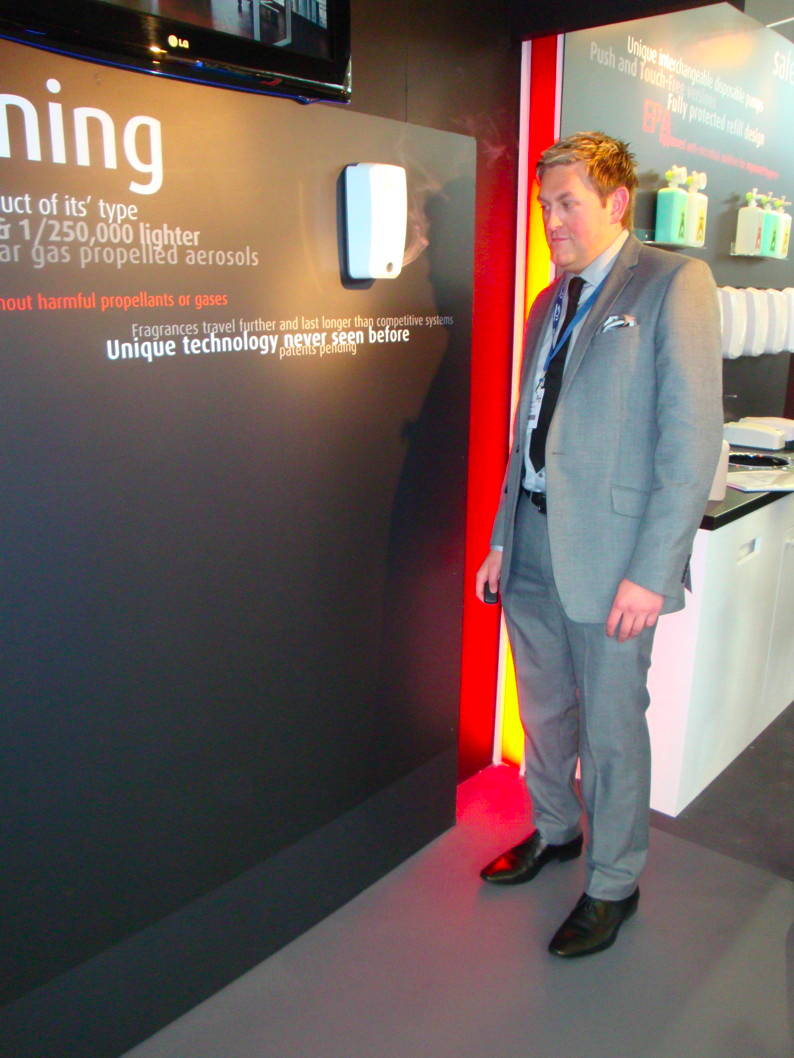 We were delighted to see Vectair's Matthew Wonnacott braving the crowds to show us how well he's recovered from the attack by a hit and run driver last November, which nearly claimed his life… Horrified though to hear that the police and even paramedics had thought he was simply 'drunk & disorderly' and had made him walk to the hospital transport – broken back, broken ribs, collapsed lung and all!
For our photo Matthew poses by the new system, which, he says, will redefine odour control. It is said to be the lowest VOC rated product of its type, with particles 30 times smaller and 1/250,000 lighter than regular gas propelled aerosols and fragrances that last longer than anything else available.
You can see from the image that the vapour stream is flowing upwards – this is because of the air conditioning system in the hall but as Matt demonstrated, it actually follows the movement of people through the area in which it is working, taking the product to where it is really needed. Clever that!
T: +44 1256 319 500 E: [email protected] W: www.vectair.co.uk
bpi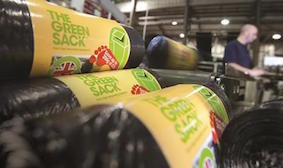 Rachael Barton and the team from BPI Recycled Products (said to be Europe's largest recycler of waste polythene) exhanged the the beautiful peaks of Derbyshire with Amsterdam and its many canals, in the hope of making contact with potential new distributors for Europe - initially for Western Europe and the Benelux countries but also with those from further afield. You can find them on stand 11.106.
T: +441723841848 E: [email protected] W: www.thegreensack.co.uk
Abrasivos Aguila
Spanish abrasives manufacturer Abrasivos Aguila told us that the use of marble and granite as a flooring and covering material has become increasingly popular in recent years, with architects and designers specifying these surfaces when involved in projects for public and residential areas.
This has created ad increasing demand for products for the restoration, maintenance and protection of these type of surfaces, to preserve their original beauty and ensure their longevity.
Abrasivos Aguila has been working for more than 50 years in the development and production of high performance products for this work, which are easy to use and easily adapted to the exigencies of the modern professionals.
"Our aim is to provide an efficient aftersales service and qualified technical support by our highly trained representatives and technicians, to ensure optimal results when using our products," explained the company's general manager, Clemente Aguila Sim-n.
"All the products and services are outlined in our new catalogue, which also includes Technical Data Sheets."
T:+34936533058 E: [email protected] W: www.abrasivosaguila.com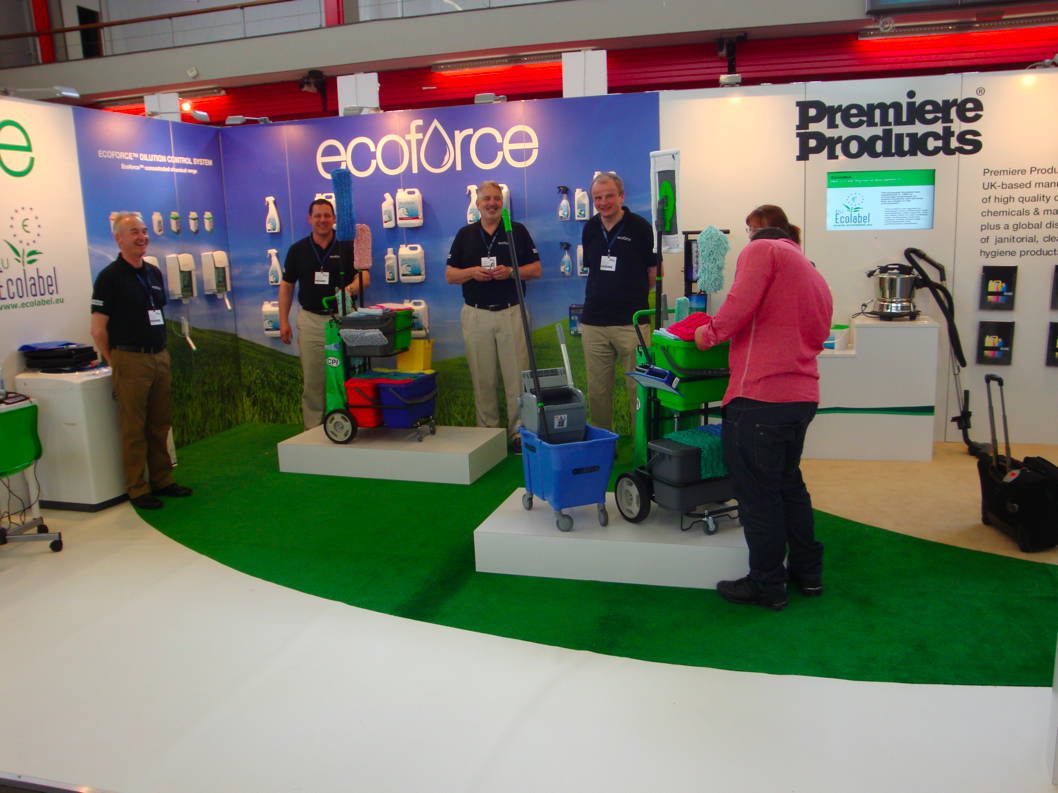 We were surprised to find long-established UK company Premiere Products slap in the middle of the American Pavilion this year! Were we just about to discover a surprise company takeover?
"Nothing of the sort," explained an amused MD Dr Ken Barnes, "We booked the stand in Las Vegas, and I'm an American, so a certain assumption was made!"
The manufacturer of top quality cleaning chemicals and machines recently announced an exciting new partnership agreement with Swiss machine manufacturer, Wetrok. This partnership agreement sees Premiere taking on the role of Master Distributor to the UK for the supply of Wetrok Machines.