Cleanzine: your weekly cleaning and hygiene industry newsletter 13th June 2019 Issue no. 874
Your industry news - first Number 1 for Recruitment

We strongly recommend viewing Cleanzine full size in your web browser. Click our masthead above to visit our website version.
---
Cretan hotel enjoys cost efficiency that doesn't sacrifice on quality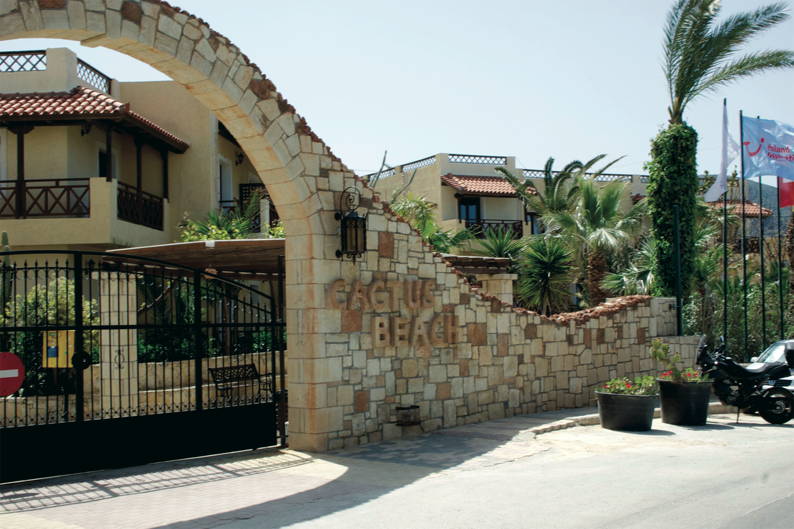 Nestled below the Cretan mountains, the Cactus Beach Hotel is a mere stone's throw away from the balmy blue waters that surround the idyllic Greek island of Crete. Located in the popular summer tourist destination of Stalis and only 35 km from the Island's capital, Heraklion; the hotel offers four star accommodation that promises - and delivers - comfort, cleanliness and excellent service to travellers from all over the world.
When the busy tourist season begins in May of each year, the hotel's 345 rooms are soon filled to capacity - up to 1,400 people. With so many customers, many of whom are children, hygiene is of the highest priority.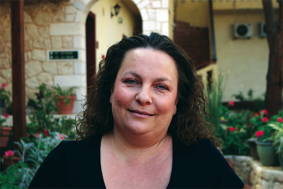 Irini Damoulaki, Head of Housekeeping, stresses that the hotel is uncompromising on this issue. "Guests come to Cactus Beach expecting to be looked after and treated well, and hygiene and cleanliness are central to that expectation," she says. "However, we are not just providing basic bed and board - this is a luxury hotel and therefore we must also always be sure to provide a high level of luxury with all our services."
And this marriage of hygiene and comfort starts in the washroom. "The washroom is hugely important to our guests' experience - we notice it is nearly always one of the first rooms the guests look around when they arrive - and the holiday experience can be ruined if it is not up to standard," says Irini, who, with her team of 27 cleaners, always ensures that each washroom in the hotel is in perfect condition.
However, there was a problem with the soap system in the washrooms. "The company we were using provided the liquid hand and body soap in very small plastic bottles, each of which contained about 100 ml of product," reveals Irini. "We were having a lot of trouble with this system, which mostly stemmed from how difficult it was to control the amount of product our guests were using - it was too easy for guests to use much more product than they wanted or needed. This meant not only a lot of wasted product, but that the soap was being consumed at a very high rate."
This excessive turnover was causing problems for Irini and her housekeeping team.
"We were changing these small bottles of soap once a week, sometimes even twice a week," she explains. "With our guests going through so many bottles, we were constantly ordering more and more and we finally realised that the cost was spiralling out of control."
"Furthermore, Cactus Beach is an eco-hotel. This means that we are committed to being 'green' - recycling and using environmentally processes wherever possible. Because our hotel was using so many bottles, the amount of plastic waste we were generating was extremely high, and obviously bad for the environment.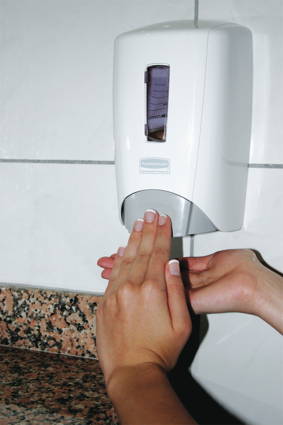 "We needed a solution which was primarily a cost-effective and economical one, as well as being effective against bacteria and germs, and luxurious and gentle enough for all our guests. It was also important very to maintain our eco-friendly credentials."
The Cactus Beach Hotel realised that Rubbermaid was the perfect company to provide a solution, based on the established reputation and strong environmental credentials of the brand. The hotel selected 700 FLex manual dispensers, as well as 350 boxes of FLex EnrichedFoam hand wash (Green Seal) refills and 350 boxes of FLex EnrichedLotion hand & body shampoo (Green Seal) refills. The dispenser units were placed throughout the hotel - in each individual guest washroom, as well as all public washrooms both by the pools, restaurants, bars and gym facilities.
The characteristic high-quality design of Rubbermaid's products was the hotel's primary reason for choosing the FLex dispensers. Portion-control functionality is built into each dispenser, meaning that in a single pump the optimum amount of hand or body soap is dispensed - enough for a thorough clean, without wasting product. Both the hand wash and the body lotion provide a rich, luxurious lather, and are tough on harmful germs, offering a clean that is both lavish and thorough.
Since installing Rubbermaid FLex throughout the hotel, Cactus Beach has profited from the products' significant benefits.
"The dispenser's portion control is fantastic - dispensing only what our guests need, and no more," says Irini. "As a result of both the reasonable initial price of the dispensers and refills, coupled with the fact that far less product is wasted with the FLex's portion control, we have found that the Rubbermaid system is 70% more cost efficient than our previous solution."
The more efficient use of product has not only led to cost savings, but substantial time savings too. "It's simple really - our guests use less soap, so we have to change the refills far less than previously. Now, we need to change the refill in each dispenser twice a month, sometimes only once a month," explains Irini. "When our hotel is at full capacity and we have 1,400 guests spread throughout the hotel, the housekeeping team is extremely grateful for anything that saves them time."
With refills that click into the FLex dispenser with ease, the changing process is simple, straightforward - and, crucially, fast.
"The ease of fitting refills means that the cleaners are able to clean all the rooms much quicker than before," explains Irini. "As they are less rushed, they are more thorough - noticing small things, such as a stain, that makes all the difference to a clean and tidy room and all the difference to our guests' experiences."
Although the FLex dispensers discourage wasteful amounts of product being used, the dosage of solution they distribute is the optimum amount needed to wash off harmful microbes.
"Everybody knows that washing your hands is the key to stopping the spread of germs and bacteria," argues Irini. "So knowing that the dosage dispensed is the right amount to stop this spread is reassuring.
"Also, because you can see the amount of soap remaining through the built-in clear plastic 'window', we make sure that a dispenser is never without soap, so hands can always be washed."
Further reassuring Irini and the rest of the hotel's staff and guests is the use of Microban technology, built into each FLex dispenser's push-handle during manufacture. Microban provides continuous antimicrobial protection, inhibiting the growth of microbes such as bacteria, mould and mildew, which can cause stains, bad odours, deterioration of the product, and be a breeding ground for potentially harmful germs.
Used in a washroom - an area of high humidity and moisture, Microban provides an added level of hygiene. And because Microban protection is built in, it does not wash off or wear away - no matter how many times the dispenser is used - keeping the FLex dispensers hygienic for the duration of the product's life.
"Everything about the product is hygienic, from the soap to the built in Microban technology," says Irini.
"We were also adamant that both the hand and the body soaps would be gentle on our guests' skin," she adds. "If a guest was to have an allergic reaction because of the soaps in their washrooms - that would be unthinkable! It would not only ruin that guest's whole holiday experience, but could be very damaging to the reputation of Cactus Beach - that kind of incident is not easy to recover from, especially in this day and age where reviews and comments about a hotel are so easy to post online.
Thus, Rubbermaid's high-quality hand wash and body lotion, which not only provide a rich lather and effective clean, but are also kind to skin and enriched with moisturisers, were the perfect fit.
"Not a single person has complained of any kind of irritation from using the Rubbermaid products. We have had only good comments from the guests, which makes us happy - and if the customers are happy, then the hotel is happy," she says.
Cactus Beach had been very troubled by the amount of waste that had come from the previous washroom solution, both in terms of soap and the by-product of the many empty plastic bottles.
"With Rubbermaid's FLex dispensers and the refill packs, our hotel is now much more eco-friendly," states Irini. "Our guests don't take more hand or body soap than they need, and so we throw far less packaging away."
Moreover, Cactus Beach has selected Rubbermaid's Green Seal certified hand wash and body lotion refills, which meet high environmental standards that help earn LEED credits, and the box-less refills evacuate fully, further reducing waste.
Irini is more than happy with the dispenser's design, which fit into the practical yet clean-look aesthetic of the Cactus Beach washrooms.
"The dispensers are robust and durable - perfect for a busy hotel with many young guests," she says. "However, they are not bulky or ugly, and we were very happy with the colour choice, which looks great in our washrooms. After all, a luxury hotel needs luxury things in it."
Understanding the needs of each different customer is a central tenant of Rubbermaid's ethos. Providing an effective service means providing the perfect product that fits the requirements of a particular situation - lending a bespoke, consultative approach.
"The Rubbermaid representative was extremely helpful," says Irini. "I really felt that they listened to our problems - they didn't try to simply sell a large amount of the most expensive products. Rather, they knew all their products in great depth, and were committed to finding the right solution for Cactus Beach.
"It wasn't just about helping us select the product though. They were equally dedicated throughout the entire process. A Rubbermaid representative was present during the installation of all the dispensers, and the representative regularly checks-in to make sure there are still no problems with the products. Rubbermaid have provided the level of support that you would expect from such an established brand."
Cactus Beach has been so impressed with the FLex dispensers that it has installed other Rubbermaid products for the full washroom experience.
"Our newest washrooms are located near the pool and in one of our hotel's restaurants, and are to be used by all the hotel's guests," explains Irini. "In these washrooms, we have installed Rubbermaid's Microburst Duet and Autosanitiser."
These recent Rubbermaid additions have already been a success. "Our cleaners are always commenting on the lovely scents coming from these washrooms - it has become a hot topic of conversation amongst the housekeeping team," says Irini, laughing.
"We knew we needed a more cost-efficient and more environmentally friendly system in our washrooms than we were using. And although Rubbermaid is cheap, it is not 'cheap' - it is an economical, high-quality product, and the perfect solution to our problems."
Caption: Irini Damoulaki, Head of Housekeeping
T: +44-2034506749
E: [email protected]
W: www.rubbermaid.eu
5th July 2012
---