Cleanzine: your weekly cleaning and hygiene industry newsletter 13th June 2019 Issue no. 874
Your industry news - first Number 1 for Recruitment

We strongly recommend viewing Cleanzine full size in your web browser. Click our masthead above to visit our website version.
---
Interview with Martin Scott, Exhibition Director, Cleaning Expo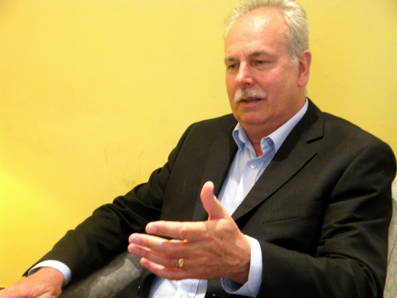 Cleanzine: We've had calls from people in the industry who are accusing you of creating a split within the industry by setting up a rival show to the established Cleaning Show, which as you know is moving to London's Excel for 2015. People are saying that your show will effectively take money from the British Cleaning Council, which normally benefits from a percentage of the profits from the established show which it helps to run. What's going on and why?
Martin: I'm not setting up a rival show but providing an alternative for those that want one – and believe me, the industry wants one!
Cleanzine: What do you mean: "The industry wants one?" I thought that the survey put out by the organisers prior to the recent Cleaning Show, resulted in the decision to move the show to London, because respondents voted for a move.
Martin: Questionnaires were sent out – yes – but the decision had been made quite a while before this, to move the Cleaning Show to London. People were asked about their views, after the decision had been made. I was the one who said, "Shouldn't we be asking people what they actually want, before making a decision?" Then the organisers sent out the questionnaire to exhibitors. Within hours we could see that there was far more support for keeping the show at the NEC and when the last of the questionnaires was returned we could see that 71% of exhibitors wanted the show to remain in Birmingham. Then I asked: "What about the visitors? They're an important part of this so we need to know their views." So we sent the questionnaire to everyone that had pre-registered to attend the 2013 show and within a couple of days it was clear that their views echoed those of the exhibitors: approximately 70% indicated that they wanted the show to remain in Birmingham."
Cleanzine: OK, so it was too late as the decision had already been made; but as 'the face' of the Cleaning Show over the past 20 years or so, shouldn't you have supported that and tried to create an event that people would be happy with?
Martin: With the Cleaning Show's move to Excel, the NEC had a slot to fill and it put the profile out to exhibition organisers to see if anyone was interested in taking it over. Three other exhibition organisers, put in a bid. A cleaning event was going to be staged in Birmingham regardless of whether I became involved or not, so who better to put on a show than someone who knows the industry really well and who has the industry's interests – and those of its customers – at heart? I put my own bid in a month after the show and as the NEC trusted me and already knew we worked well together, my bid was the winner. I knew that I wouldn't be able to make a success of a cleaning show at Excel, as so many of the regular exhibitors had said quite emphatically that they would not exhibit in London.
Cleanzine: Don't you think they could have been swayed?
Martin: If the dissent had been half-hearted, or if there hadn't been so many people who were visibly angry about the move, I might have thought we could try and change their minds… but no. There were too many and they were too determined.
Cleanzine: What do you mean by that?
Martin: Normally, exhibitors who have been having a successful Cleaning Show visit the sales stand during the event to reserve space for the following event. This has always started off slowly, gaining momentum throughout the event, but by the close of play on the final day, some 60% - 65% of space has generally already been reserved. The show held this March was completely different. Exhibitors coming in to erect their stands and seeing the signs announcing that the show was moving to London for 2015 were coming up to me and demanding to know what was going on. They weren't happy. The grumbles became greater in number as the word spread and some people were really angry. By the end of the show only 5% of stand space for the 2015 event had been reserved. Over the three days I'd been getting so much resistance to the show in London that I felt I could not sell something I did not believe in and it was clear the majority of exhibitors did not want.
Cleanzine: Why do you think everyone is so anti-London? I'd thought it was a great idea and that it would attract international visitors and exhibitors!
Martin: A massive 90% of exhibitors at the most recent Cleaning Show were from within a three hour drive of the NEC. You have to look at where the potential visitors are coming from, 87% of cleaning companies with a £1m + turnover are located within a 3 hour driving distance of the NEC. As you can see from our diagram, most are within three hours of Birmingham but a great number of those are just an hour away from the NEC. Compare that to the diagram of London and you can see how the move will impact on people's ease of getting to the venue. As a venue, the NEC is actually easier for overseas visitors to attend.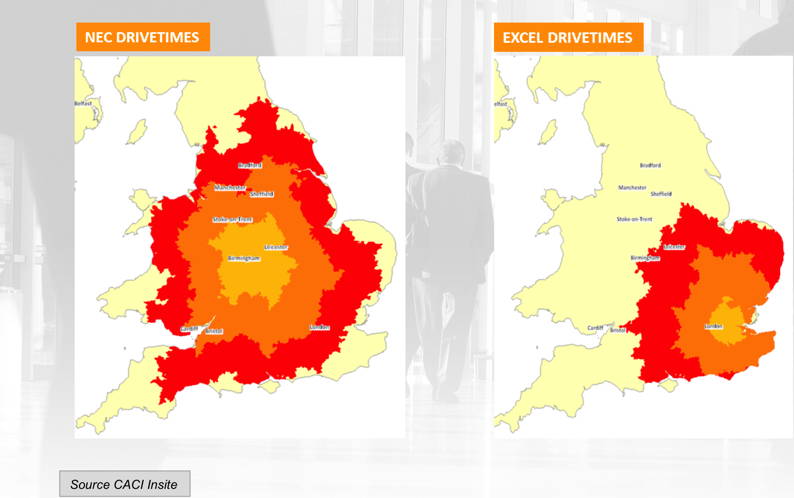 From Heathrow to Excel, the journey is 1 hour 10 minutes by car and one hour 20 minutes by train. People forget that Excel isn't in the heart of London but is instead to the East of the City but most who've been there complain about the long journey times – and that's without taking into account the inevitable traffic jams in London. Then you have to park. Those pre-registering for the show at the NEC are entitled to free parking. At Excel there aren't any concessions. Parking costs anything up to £20 a day whether you're a visitor or an exhibitor. And as for flying, the NEC is a short 15 minute walk from Birmingham International Airport, direct flights are available from many European cities and worldwide, but by 2015 Birmingham International airport will have increased the direct flights from many destinations. The NEC is connected to Birmingham International station the average train time from London to the NEC is 1hour 10 minutes, less time than it takes to get from Heathrow to Excel.
Cleanzine: Bearing all this in mind, why do you think BCCE wanted to move the Cleaning Show to London?
Martin: I think this would be unfair for me to comment as I am no longer a member of the BCCE board, perhaps this is a question you need to ask BCCE.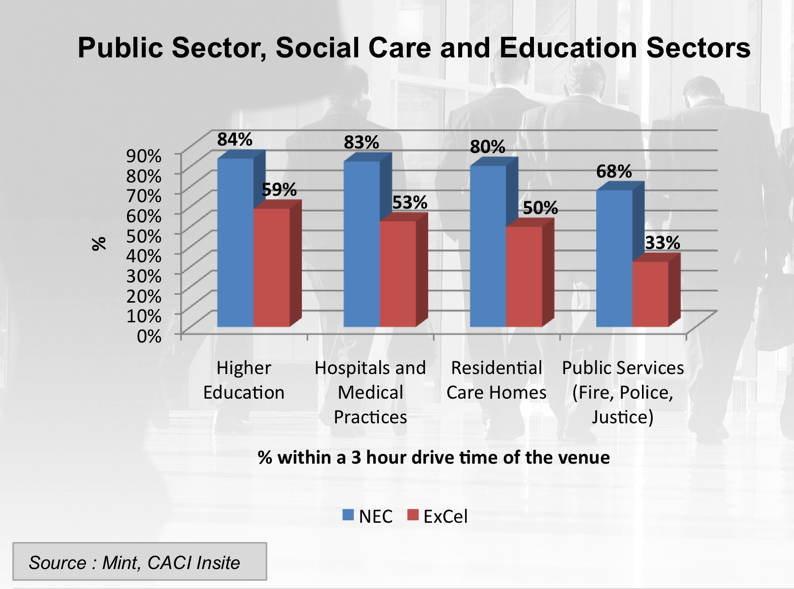 However at the 2013 show, some 43% of exhibitors at this year's show had never exhibited before, so things were definitely looking better for the NEC. It had been evident for years that this show needed something new though – something to entice other companies and the big manufacturers in as exhibitors and something that would give visitors a reason to attend the show – but that doesn't necessarily mean a move to London. For example, if you can get the big machinery manufacturers in – those that produce street cleaning machines and the like, the Local Authorities will attend. Get the healthcare hygiene people in and the visitors will flock to the show.
Cleanzine: When Carpex/Windex was launched, it was initially co-located with a healthcare hygiene show, which seemed like a really good idea at the time. Surely healthcare hygiene could have been incorporated into the cleaning show in London to attract the new visitors you refer to?
Martin: The healthcare hygiene part of the event didn't receive nearly as many visitors as the Carpet/Windex part and the exhibitors said that the show needed to be in Birmingham.
Cleanzine: So how do you answer the accusations that your event will split the industry… And where does this leave the BCC?
Martin: This isn't about me splitting the industry but simply offering an alternative to exhibiting at Excel.. Customers are telling me that they weren't going to exhibit in London. You cannot tell exhibitors where to exhibit, they will make their own decisions, based on many factors. The Cleaning Show has been an industry show for years but some of the biggest players from those associations simply hadn't supported it. I've been in the industry for some 23 years and I have the industry at heart. I'm giving the industry what it's asking for and am still open to talking to any industry associations
Cleanzine: So apart from taking up the slot at the NEC left open when BCCE decided to move the Cleaning Show to London, what are you doing to give the industry what it wants?
Martin: It's a bit like that old adage of cleaning product salespeople being told by their employer: "Here's a new product or machine; go out and sell it (whether it's something the customer needs or not)," rather than the manufacturer asking what the customer wants and designing something to suit that need. People from this industry do not want a show in London, they want a show in Birmingham – and I'm supplying them with what they want.
As part of the event, I'm going to be organising an Awards Gala Dinner, a conference aimed at those at the very top tiers of cleaning management that will enable them to debate issues that really matter to them. And rather than me tell them what they're going to talk about, they're going to tell me what they want to talk about as I'm setting up an advisory board to make sure I get it right. There will also be a series of seminars that will ensure those who attend actually learn something new or hone their skills. And if people attend those, they'll also have a look around the show, which will help keep the exhibitors happy.
To make things easier for small companies, the basic space only costs just £205.00 per square metre while a shell scheme stand is £240.00 per square metre. The packages are more comprehensive and better value than exhibitors will expect too. But it's not just about incentivising the smaller companies, is it? Those taking 100 square metres or above will also be entitled to a table for 10 at the Awards Gala Dinner – completely free of charge. They'll also get two free places at the conference for themselves or their customers. So effectively they're getting more than £4,000 in value back on their outlay. On top of that they'll be given a seminar speaking opportunity and will have their logos on all show literature. They will also be entitled to an e-blast to all pre-registered visitors. I'm making everything more affordable for everyone.
One company that's booked had a look at the figures and said: "This can't be right. It comes to less than I paid for the same space at this year's Cleaning Show." Well it is right.
Cleanzine: Are people booking or are they playing a 'wait and see' game?
Martin: More than 1,600 square metres of stand space has been reserved and in some cases those signing up are doubling the amount of space they are taking, compared to recent years. Contracts have already been signed by many exhibitors and I'm taking new enquiries every day. There has been great interest from the large machine manufacturers too, who are saying, "This is right up our street!" Seven machine companies have already booked and there's loads of interest from every sector.
Cleanzine: The interview closed with Martin reiterating that he was not taking custom away from the BCC or BCCE because the exhibitors he is signing up have said that they would not have exhibited in London, and that the NEC was determined that a cleaning-related show would take the slot left vacant by the departing Cleaning Show. He said he's always had the industry at heart and that the industry would benefit from having someone with its interests at heart organise the Birmingham show. He also reiterated that he would be happy to "talk to any industry associations."
6th June 2013
---