Cleanzine: your weekly cleaning and hygiene industry newsletter 13th June 2019 Issue no. 874
Your industry news - first Number 1 for Recruitment

We strongly recommend viewing Cleanzine full size in your web browser. Click our masthead above to visit our website version.
---
10th anniversary of Recycle Week shows just how far we've come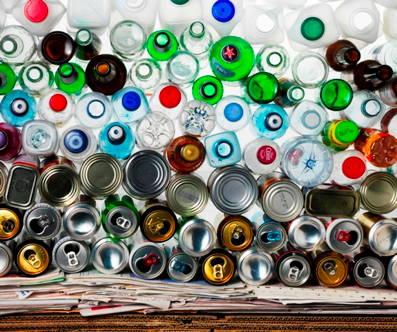 Over the past decade, the UK has recycled an astonishing 50 billion plastic drinks bottles - enough, laid end-to-end, to stretch to the moon and back more than 10 times over!
This is just one of impressive facts to come to light as Recycle Week - the national event to encourage more people to recycle more things more often - celebrated its 10th anniversary earlier this month.
During the same period, local authority recycling schemes across the UK have collected materials like card, paper, plastic and glass worth a staggering £2.4 billion.
This includes:
* Paper and card worth around £1 billion
* Plastic worth around £339 million
* Mixed cans worth around £174 million
* Mixed glass worth around £153 million
* Textiles worth around £124 million
Launched as 'The BIG Recycle', the annual event has played an important role in helping consumers understand what can and can't be recycled in a decade which has seen huge changes and improvements to recycling collections and services.
"As a nation, we've come a long way since we first began to take recycling seriously," says Waste & Resources Action Programme chief executive Liz Goodwin.
"This is good news for the environment - it means we're sending less waste to landfill and making better use of the natural materials that go into the products we use every day.
"It is also hugely important for our economy. The UK recycling sector now generates more than £13 billion a year in sales of recycled materials, employs more than 40,000 people and contributes around £3 billion-worth of additional value each year to the UK economy.
"The sector has also increased its sales revenue threefold since 1998, outstripping growth in the overall economy over the same period of time.
"This progress is thanks to huge effort by the public, local councils, businesses, community groups and charities, many of whom use WRAP's www.recyclenow.com and www.recyclenowpartners.org.uk websites, and Recycle Week's resources to help them.
"Given this progress, you may be asking whether we still need Recycle Week. The truth is, there's still more we can all do to recycle more things, more often - to capture more of the valuable materials that are collected for recycling in our own area.
"For example, take the humble plastic bottle - householders are now recycling more than 50% of these and most councils collect them now. This is great news, but that means there's still about half ending up in landfill!"
Defra Resource Management Minister Lord de Mauley says: "Dealing with waste and recycling properly not only makes environmental sense but also good business sense. We've made great strides in household recycling and over the next decade we can look forward to doing much more to reduce waste in the first place.
"Reusing and recycling products and materials will also open up new avenues for UK businesses in growing domestic and export markets."
10 recycling fast facts
* Household recycling has risen from 11% in 2001 to 43% in 2013, and more than half of business waste is now recycled.
* More than 9 billion drinks cans are made in the UK every year - 80% are aluminium.
* In one year, a single drink can could be recycled as many as eight times, saving enough energy to make 160 new cans.
* Over 3 billion cans are recycled in the UK each year - equivalent to the weight of 18,000 double- decker buses.
* All steel cans contain up to 25% recycled steel.
* Recycled plastic bottles can be turned into all kinds of things - even fleece jackets! It takes 25 recycled drinks bottles to make a fleece jacket.
* It takes 75% less energy to make a plastic bottle from recycled plastic compared with using 'virgin' materials
* An estimated £140m worth of used clothing ends up in landfill every year in the UK
* In the UK, we send 700,000 tonnes of clothing to be re-used recycled each year - enough to fill 459 Olympic-sized swimming pools.
* Aerosols and foil are the two materials that the greatest proportion of people throw away due to lack of knowledge that they are included in their council's kerbside recycling collection.
www.wrap.org.uk / www.recyclenow.com
27th June 2013
---