Cleanzine: your weekly cleaning and hygiene industry newsletter 16th May 2019 Issue no. 870
Your industry news - first Number 1 for Recruitment

We strongly recommend viewing Cleanzine full size in your web browser. Click our masthead above to visit our website version.
---
New floorcare guidelines designed for safety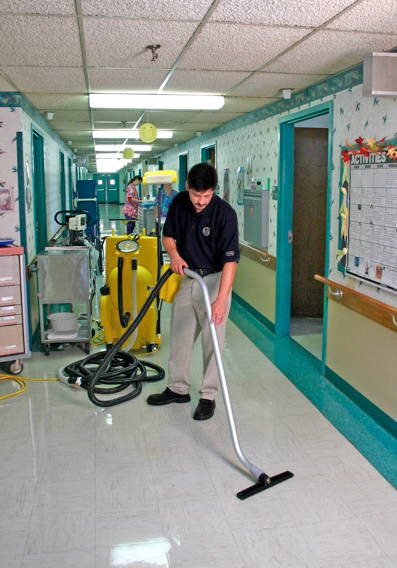 It appears that some regulatory bodies in North America are considering taking significant actions in the hopes of reducing the number of slip-and-fall accidents that occur annually.
In the US, the National Safety Council estimates that nearly nine million people end up in emergency rooms each year with many of these job-related accidents. And the Canadian Centre for Occupational Health & Safety reports that more than 42,000 workers are injured annually due to slip-and-fall accidents, which represents about 17% of the 'time loss injuries' in the country. And of course these types of accidents are not confined to North America, so any lessons learnt there can be put to good use elsewhere...
The foodservice industry, which can include everything from commercial kitchens in restaurants and hotels to scores of commercial food processing centres, appears to be one of the industries that experiences the most slip-and-fall accidents. According to ISSA, the worldwide cleaning industry association, more than three million foodservice workers in the US and more than one million guests or patrons of foodservice facilities are injured each year as a result of slip-and-fall accidents. Further, a study by the National Floor Safety Institute indicates that the foodservice industry spends more than $2 billion annually on such injuries in terms of medical costs, absenteeism, and lost productivity and that these accidents are increasing by about 10 percent each year.
While these are staggeringly high numbers, we must remember that slip-and-fall accidents are certainly not a problem just within the foodservice industry. In fact, virtually all facilities maintained by cleaning contractors and in-house cleaning professionals-from schools and offices to large and small retail stores-have their share of these accidents. Further, it appears that these accidents are on the increase in almost all industries studied.
Because of this, the Occupational Safety & Health Administration has proposed a new set of floor safety guidelines, which are designed to essentially raise the bar on floor safety requirements with the hope of reducing slips, falls, and other floor-related injuries. While the new guidelines-which were introduced in August 2013 and are still awaiting final ratification (expected in 2014)-are designed primarily to address the safety of workers in food-preparation industries, according to the NFSI, they will apply to most other industries just as well.
Further, building managers and cleaning professionals in both the US and Canada should know that OSHA and CCOHS often adopt similar standards. When one organisation introduces a new set of rules or regulations, they are often reviewed with the other, helping companies that have workers or facilities in both countries meet similar safety standards.
While the new guidelines include several components, there are two rules being considered that building managers, foodservice managers, and cleaning professionals should be particularly aware of.
The first of these regulations requires that a 'qualified person' must be called in to ensure floors are safe and maintained in such a way that they help prevent possible slip-and-fall accidents. Foodservice facilities are accustomed to having their locations inspected by public health officials, so this just means there will likely be a new inspector on the horizon. However, other types of facilities such as schools and office buildings are not accustomed to this type of inspection.
OSHA defines a qualified person as someone 'capable of identifying existing and potential hazards...that may pose a risk or be dangerous'. Qualified floor experts already exist throughout North America. However, they are typically called in by attorneys and insurance companies to determine a floor's condition after a slip-and-fall accident has occurred. Now they will be called in before an accident happens, with the goal of preventing one from occurring in the first place.
The other significant guideline focuses on floor cleaning and maintenance. It is generally accepted that an effective custodial cleaning programme not only helps minimise slip-and-fall accidents but is crucial in helping to prevent them. This fact is now also officially recognised by OSHA, which specifies that cleaning, whether performed by in-house staff or by an outside contractor, be provided by personnel educated in proper floor cleaning and maintenance. This training is now provided by NFSI and will likely be available through other organisations in the future.
According to ISSA, when it comes to cleaning tools and equipment, there are specific steps foodservice facilities can take to help lower the risk for slip-and-fall accidents. The organisation suggests choosing 'floor cleaning and maintenance products with proven slip resistant characteristics comparable with the particular flooring surface installed.'
ISSA also suggests selecting NFSI-certified floorcare products. These are tools, floor treatments, matting systems, chemicals, and equipment that have been independently tested in both the laboratory and real-world applications. If the tests indicate the equipment meets specific criteria, referred to as 'high traction', and can help prevent an accident, it can then be certified.
Although there are mops and buckets certified by the organisation, the NFSI finds that alternative floor cleaning equipment is often more effective than these conventional tools at helping to reduce slip-and-fall accidents. High on the list are 'spray-and-vac (no-touch)' and 'dispense-and-vac' cleaning systems that clean floors without the use of mops.
The big concern with mops and buckets is that they get soiled as soon as they are used. This then can spread contaminants over the floor, potentially causing the floor to become slippery, inviting an accident to occur. While 'dual-cavity' bucket systems may help forestall this soiling process, eventually it does occur even with these bucket systems. The result: this form of floor cleaning can defeat the entire effort to help prevent slip-and-fall accidents in the first place.
Leading cleaning organisations in the US and Canada are now aware of the new OSHA standards and will likely have more information about them when they are finally ratified. Usually when either OSHA or the CCOHS introduces new rules and regulations, they set up a timetable so that companies and organisations can become familiar with the new standards and when certain steps must be in place in order to be compliant.
Both cleaning professionals and facilities managers should be aware of these standards and not be caught off guard if a slip-and-fall accident occurs in their facility and they are found to be not in compliance. Often the ramifications in such cases can prove fairly serious. While the new guidelines are still being considered, we have time now to prepare for their adoption, educate ourselves about them, and begin the selection of the right tools and equipment to help prevent slips and falls and make the transition that much easier.
Marc Fergusson is the International Business Development Manager for Kaivac, developer of the No-Touch Cleaning and OmniFlex cleaning systems. He may be reached through his company website at:
13th March 2014
---