Cleanzine: your weekly cleaning and hygiene industry newsletter 2nd July 2020 Issue no. 925
Your industry news - first Number 1 for Recruitment

We strongly recommend viewing Cleanzine full size in your web browser. Click our masthead above to visit our website version.
---
New technology helps control and protect against Ebola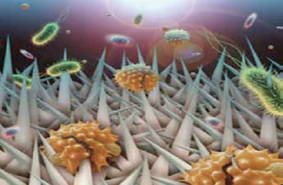 Goldshield's GS24 alcohol-free antiseptic hand sanitiser and protector contains a QAC-based biocide using patented technology, that attaches to a polymer producing something called covalent bonding.
This is a form of nano-technology, which allows an 'invisible glove' to be formed on the hand, providing enhanced protection against microorganisms and enveloped viruses such as Ebola.
"Alcohol based hand sanitisers also kill microorganisms and inactivate enveloped viruses but do not leave a protective layer once dried and some can also cause skin problems when used frequently," says the manufacturer.
Here's How Goldshield's Core Technology Works:
Part 1: is the 'silane base'. This is the compound that anchors and triggers the covalent bonding functionality which allows Goldshield's other products GS5 and GS75 to adhere to surfaces and textiles and remain durable for up to 30 days and for up to 50 subsequent washings. Goldshield's 5 and 75 resultant durability means Goldshield is not fugitive, i.e., does not leach or become mobile. Goldshield actually becomes part of the surface to which it is applied.
Part 2: is the 'nitrogen' molecule, which is positively charged (+). Key: many microbes are negatively charged; therefore, as in nature, the nitrogen molecules in Goldshield 'attract' the negatively charged microbes toward them until contact.
Part 3: is a long carbon chain that releases an ionic charge that literally punctures the microbe's cell membrane upon contact hereby instantly killing the microbe, mechanically. At the same time, the quaternary compound component of Goldshield denatures the microbe's proteins, which assures the microbe's kill, chemically. This dual killing functionality is said to be unique to Goldshield and very important because a dual kill assures an instant kill on contact; the microbes do not have time to regenerate into 'superbugs.'
"There are no other water-stable antimicrobial chemistries available today that function in this manner," says the manufacturer, explaining the background behind the technology as follows:
"Thirty years ago an antimicrobial technology was developed that used the organosilane compound 3-(trimethoxysilyl) propyl-dimethyloctadecyl ammonium chloride. However, as good as this compound was, there were deficiencies: For example, it had to be mixed with methanol (sometimes acids) in water to be useful but the resultant mixture was unstable in water, which resulted in a larger molecule that could not fully bond and would 'leech', i.e., become separated from the surface, losing its effectiveness. This also produced a compound that had to be used relatively quickly after being bottled because it could not be stored for very long, therefore was not user-friendly and was costly to use.
"The chemistry developed at Emory University in Atlanta was brilliant and unique because it solved all the above deficiencies that had eluded the best chemists in the world for 30 years.
"Goldshield today is the world's only patented, water stable, functioning organosilane that:
- Has been fully stablised in water, therefore will not self-condense
- Uses no methanol, acids or other solvents
- Is environmentally begin, non-flammable
- Is water-based as well and considered a 'green' coating and odourless
- Does not leach so forms a long-lasting covalent bond
- Has a long in-bottle shelf life typically over a year and a half
- Is very easy to apply via a traditional spray bottle
- Is economical because a single application provides up to a 30-day 'invisible' protective shield inhibiting a broad spectrum of bacteria, viruses, mould, mildew, fungi.
"Through a variety of domestic and international regulatory testing protocols Goldshield products have been shown to possess very unique characteristics; they are both bio-static (inhibits) and biocidal (kills) a broad spectrum of bacteria, mould, mildew, fungi and viruses."
Image: Visual of Goldshield acting like a bed of nails at microscopic levels
T: +44 (0) 1908 745 530 or
E: [email protected]
W: www.goldshieldtech.co.uk
30th October 2014
---