Cleanzine: your weekly cleaning and hygiene industry newsletter 9th July 2020 Issue no. 926
Your industry news - first Number 1 for Recruitment

We strongly recommend viewing Cleanzine full size in your web browser. Click our masthead above to visit our website version.
---
So much more than cleaning...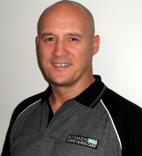 I first came across Chris Straker, of Straker Eco Carpet & Rug Care, via the local paper some years ago, when he won a Green Guardian Award for his carpet & upholstery cleaning business. I could so easily have forgotten about him but the fact that he kept on winning awards, year after year, meant that he was uppermost in my mind when some associates of mine needed a real professional to get to grips with a seriously grubby carpet.
Chris was keen to oblige and as the job was local to me I went along to observe.
I knew that despite having qualified as a carpet cleaner myself, I'd be able to learn something new from Chris and I did; what I didn't expect though was to be thoroughly entertained too, as he regaled me with tales of his work as an extra on the big screen in the James Bond films 'Tomorrow Never Dies' and 'The World is Not Enough' as well as in such iconic national TV as 'Eastenders', 'The Bill' and 'Soldier Soldier.'
"My highlight though was taking part in 'Gormanghast' in 2000, (the BBC's mini-series adaptation of the Mervyn Peake classic) alongside the likes of Zoe Wannamaker, Stephen Fry, Spike Milligan, Martin Clunes, Celia Imrie, Christopher Lee, Jonathan Rhys Meyers, June Brown, Windsor Davies and Eric Sykes," he said. "I was running around in historic costume, wearing a cape and brandishing a pike as part of Windsor Davies's crew, then chatting to June Brown, who's starred in Eastenders for the past 30 years, between takes! It was all rather surreal!"
I wondered whether it was quite as surreal as being 'Womble of Wimbledon Common' Madame Cholet (another of Chris's accolades) and Chris just chuckled.
But it's not just iconic TV programmes and movies that give Chris his 'claim to fame'. As Certified Master Rug Cleaner for the North Surrey and South West London Area he has set himself apart, to the extent that he has been cleaning the carpets in what has been dubbed 'the mother of all parliaments' - the Palace of Westminster - for the past nine years. As well as the ceremonial rooms, this work includes some of the palace apartments. Chris also cleans the Archbishop of Westminster's 'Grand Residence.'
"I'm proud to be entrusted to clean in such buildings," he said. "As a former member of The Royal Military Police (TA), I'm trusted to provide a secure, discreet and reliable service. I'm MoD security vetted and cleared to Parliamentary Work Directorate levels."
Arriving for our rather more humble clean - as I should have expected - bang on time and in a clean and shiny, brightly sign-written van, Chris proceeded to remove some equally shiny cleaning equipment as we chatted. Naturally I wanted to know about all the awards and was surprised to learn how many he'd won - as well as that the first was as far back as 2006.
"I've won six green business awards from Sutton, Wandsworth, Merton and Kingston councils," he said. "These annual awards are the culmination of the largest environmental awareness campaign in south London and cover 11 boroughs, so I'm pleased to have been recognised for my work. My personal highlight was receiving the Wandsworth Borough Green Business of the Year in 2007."
Running a small business that has won so many awards and which also involves the cleaning of such iconic buildings, is quite an achievement and I wondered whether Chris had secretly nursed dreams of becoming a cleaner as a young lad, but he explained that he joined the industry by chance in 1982, working for companies such as Scrubbers of Putney and Kingcome Sofas of Fulham, before deciding to go it alone and setting up Straker Cleaning in 1989.
So what had he wanted to do?
"Well I'd attended Wandsworth Boys School, which boasted a world-famous choir of which I was a member - not just because of the singing but also because of the many perks that came with it," laughed Chris. "It was when we were filming 'First Night of the Proms' for the BBC that I thought that this was something I could enjoy doing permanently, but then the voice dropped!"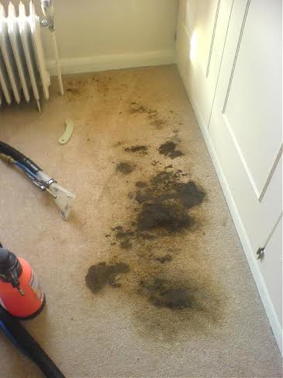 Chris loves being in the carpet & upholstery business though & said the best bit is the variety that the work brings. "I wouldn't feel happy doing the same thing and working at the same place each day," he admitted. "This is different every day - it's never boring. And even if I return to a place after a year, there will be different furniture, different people or different challenges to overcome."
The worst bit is, according to Chris, people trying to pressure him into cutting his charges and not appreciating that if you want a quality job from a qualified, highly experienced and respected technician using the best products and equipment, you need to go beyond the 'We can clean three carpets for £25 leaflet brigade'. He tells such potential clients that if they're paying so little, they're likely to need remedial work before long. "That usually does the trick," he said, before telling me about some of the remedial work he's carried out as a result of other carpet cleaners' inexperience - the most difficult being removing the tram lines created by someone using a small machine of the type that can be hired from a local dry cleaner's of DIY store.
"That was a tough one," he said, before revealing that another regular remedial job involves carpet tiles that other cleaners have attempted to clean using hot water extraction. "They don't realise you can't suck air through carpet tile," he said.
Chris's worst experience was when he thought he was cleaning one enormous apartment for a client about to move in with her partner, whose large house he also cleaned. "It was only when the cheque bounced, that I realised I'd actually cleaned the residences to enable both parties to recoup their large deposits before moving overseas," he said. "They'd shut their bank accounts and disappeared. I learned from the experience though and now ask new residential clients for payment in advance or on the day."
When it comes to the rug cleaning, Chris will invoice the client after he's inspected the rug but before he's carried out the work. This works well for both him and his clients, in as much as it enables clients to decide before the work is done, whether it's actually worth doing or whether it would be better to buy a new rug, and also means that cleaned rugs aren't left sitting in his work shop for several months for their owners to collect.
Chris explained that rugs are removed to the workshop for plant cleaning, since some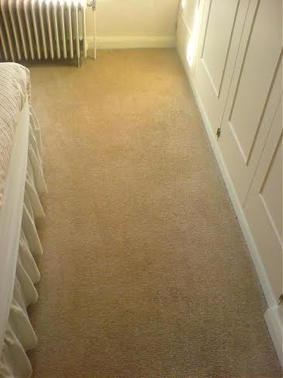 spotting chemicals, fringe oxidising and turbo drying treatments are not suitable for the household environment. Cleaning at the premises can however, be carried out if specifically requested.
"While I'd always cleaned rugs, I decided to become a Certified Master Rug Cleaner because I realised that different techniques were required and I wanted to have these skills," said Chris. "Rugs can be worth thousands of pounds and can take a real battering in a home or office. A real expert will know just how far they can go with the clean to get the best results without damaging the rug in any way and I was determined to be that type of expert."
Chris has also completed carpet & upholstery cleaning courses run by Prochem, Ashbys and Stimvak and he's now very keen on looking after the environment and the health of his clients.
"As a family man, I appreciate the need for cleaning methods that don't contain harmful elements or leave residues. To this end, I now use micro-splitting, detergent free, bleach free chemicals. My clients are delighted with the results and love the fact that the carpets are dry within around two hours even when cleaned using hot water extraction, (the most thorough way to deep clean and rinse away soil). "We also offer the low moisture method via the Charly pad system - suitable for carpeting that cannot be wet cleaned due to condition, fitting or type. This usually leaves carpeting dry in around 30 minutes and is the perfect maintenance method."
Upholstery can be hand cleaned, hot water extraction cleaned or low moisture cleaned using the extraction method.
"Using the DriMaster handtool we can leave upholstery 50% drier than conventional hand tools will leave it and usable within the hour," said Chris. "Loose covers are removed to our workshop for dry cleaning and are steam dressed on return to the property. Curtains can be cleaned in situ or removed to our workshop for dry cleaning before they are rehung and steam dressed.
Stain treatments come courtesy of Solugard, which is based on nanotechnology and thus provides an 'intelligent' anti-stick-coating for textiles. It coats every single fibre with an invisible, UV-stable, naturally breathing layer that protects the fibres from water, soiling and stains in the widest possible sense.
"The effect of this protection is that dry dirt cannot anymore stick onto the fibre and moist dirt will no longer be absorbed by the fibre," explained Chris. "Water, coffee, red wine, gravy, etc. will simply pearl off the treated fibres."
Another service offered is odour treatment. Solubac, the product Chris employs, uses micro-organisms for breaking down matter into component parts. When milk (for example) is exposed to a random mix of microbes the rather unpleasant substance that is sour milk is the result. On the other hand, if selected microbes are introduced into fresh milk the result can be something not at all unpleasant, such as yoghurt or cheese. Being a 'cocktail' of carefully selected micro-organisms, Solubac can break down odour-causing compounds nature's way - only very much quicker.
"To give immediate relief from problem odours, Solubac incorporates an odour counteractant to mask the unpleasant odour whilst the microbes perform their function," explained Chris. "It can be applied to any water-tolerant surface, injected into and through fabrics - for example into carpet underlay, without the need to uplift then relay the carpet."
When it comes to bedding and mattresses, Chris also offers the solution, thoroughly vacuuming them using Hunter vacs with HEPA filters for anti-allergy cleaning and then treating them with Allerg-Stop to eliminate allergens.
"Allerg-Stop is a new combination of active substances which break down and eliminate air allergens, such as mite excrement (house dust), pollen, animal hair and mould spores, to help eliminate the hayfever, watery/runny eyes, neuro-dermatitis and asthma caused by these air allergens," explained Chris, who then went on to describe the odourless, permithrin-free insect treatment he can apply within a building to deal with all flying and creeping harmful (cold-blooded) insects, such as flies, mosquitoes, wasps, lice, ticks, fleas, cockroaches, ants, mites, spiders, moths and silverfish.
Although Chris didn't employ any of these 'extras' while we were out, he did clean a lot of carpets and furniture. The results - as you can see from some of the pictures here - were excellent!
T: 0208 644 8892 / 07956 975595
E: [email protected]
W: www.strakercleaning.co.uk
18th June 2015
---