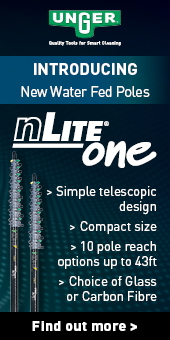 ---

New and updated vacancies are advertised in Cleanzine every week. Check out the latest opportunities by clicking the link above.
Advertise your current vacancy with Cleanzine and we'll give you the best deal in the industry with same day upload so you can fill the position faster.
Contact us for details
---
International News
Products
IICRC calls for s400 consensus body volunteers
The Institute of Inspection, Cleaning & Restoration Certification (IICRC) is seeking volunteers to serve on a consensus body for the development of the new BSR-IICRC S400 Standard for Cleaning, Maintenance & Restoration of the Commercial Built Environment. Applications are now being accepted.
more
---
Captive audience situation leads to development of micro cleaning/disinfecting system


Having contracted MRSA in a hospital in Dublin in 2004, following major surgery, the owner of Creative Biocidal Solutions recognised - over his four and a half month stay - the need for micro cleaning of his hospital room on a daily basis, as well as the need to limit access to essential medical personnel only.
more
---
New hospital facility service technology aims to improve patient experience


Hospital technology available to manage functions such as room cleaning, heating and cooling maintenance and patient transportation, typically operates on different systems that do not interface with one another. To streamline facility service management, Aramark has integrated multiple systems into a new web-based platform called FacilityFit it was announced today.
more
---
Are sanitary bin liner consumables keeping users protected?


Award-winning biosciences company Genesis Biosciences is asking for more in-depth scientific data to support claims made for 'antimicrobial' consumables used within sanitary bin services.
With on-site liner exchange services, sanitary waste bin liners are often complemented with an antimicrobial consumable which acts as a disinfectant to protect users until the bin liner is replaced again.
more
---
RCM's new Kilo scrubber drier offers increased productivity


RCM says its new Kilo compact, ride-on scrubber drier can increase productivity, since it offers precision manoeuvring in narrow spaces, a good running time and perfect drying, while a comfortable 'true' seat and user friendly controls can keep the operator content for long periods. There is a double brush version that offers even better performance.
more
---
New Eisl eco mixer tap range cuts energy usage and costs


Ideal for 'away from home' washroom providers that need to cut costs and offer a more sustainable solution to washroom users whilst creating an upmarket look, Eisl UK has launched its new Eco range of mixer taps.
more
---
---
---
Odour control inside and out from Greyland


With weekly local authority bin collections being deferred by alternating with recycling collection, many business premises are faced with stepping up odour control both inside and out.
more
---
Would you like a Cassava in that too?


In Cleanzine's infancy (we're not sure when, but it was well over a decade ago) we ran a news item about Sainsbury's trialing semolina-based shopping bags.
more
---
Sustainability-savvy hotels reduce water and energy resources with simple solution


On-premise laundry operations account for 16% of a hotel's water usage, second only to guest rooms, and require significant energy resources, according to the US Environmental Protection Agency.
more
---
Holchem goes global with training sessions in Ghana


Holchem, the Pilsworth, UK-based hygiene technology solutions provider, has spread its wings and knowledge base to reach international shores by carrying out a series of training sessions with Blue Skies Foods in Ghana.
more
---
---
This Week's News
---
---
---
---
---
---
---
---
---
---
---
---
---
---
---
---
---
---
---
The Cleanzine Archive Search
We keep an extensive archive of news stories and product information that have featured in past issues of The Cleanzine. If you would like to run a search of the The Cleanzine web site using the search tool below please just go ahead by entering in the name of the person, product or company or any other key words that you are looking for.
---
How to contact us at The Cleanzine: